Now more than ever, we need your support! Become a Supporting Subscriber today.
podcast
---
"Ah, yes! Thank you. It's good. Keep warm."
Outpost Gallifrey Presents:
Doctor Who: Podshock - Episode 153
Running Time: 1:37:00
The first Doctor regeneration story, The Tenth Planet is reviewed, plus news, rumours, and feedback (from: Fox Cutter, Rooney, Richard, Jeremy Bement, Gregg (Th3AppStoreReviewer), Tiggs Panther, Graeme, and Donavon).
James Naughton is the last, but not least Doctor Who: Podshock host to guest on the Hoo on Who Doctor Who podcast hosted by David Hooie. Together in episode 10 of the podcast, they review the classic Tom Baker story on DVD, Pyramids of Mars.
Hoo on Who is available via iTunes and via its website.
"During all the years I've been taking care of you, you in return have been taking care of me. You are still my grandchild and always will be. But now, you're a woman too."
Outpost Gallifrey Presents:
Doctor Who: Podshock - Episode 151
Running Time: 1:37:24
News (including special announcement of new companion Karen Gillan), rumours, announcements, and feedback from: José, Rev. Craig Beeman, Amy Krell, Elizabeth Jackman, Benjamin Elliott, Shawn, Jill, ?, Fox Cutter (x2), Dan, Steve Small, Brian, and Chris.
"Come back to bed... Master"
Outpost Gallifrey Presents:
Doctor Who: Podshock - Episode 150
Running Time: 0:59:20
Eliza Roberts interviewed (speaking of her role in the 1996 movie along with Eric Roberts and his recent work with Christopher Eccleston), news, announcements, special communique from Starship Sofa, and more.
To send feedback or submit an audio comment to Doctor Who: Podshock: Simply email us (see email address below) your short audio comment (as an MP3 file) or you can use Skype and leave a voice message to Podshock to be considered for the show. If you don't have the audio equipment to record an audio comment with your computer, you can simply leave your audio comment as a voice mail message by calling the Podshock Public Call Box phone line:
206-337-4699
(please note that this is a US phone number, any toll charges to the 206 area code will apply - if you have extra stored minutes on your mobile/cell phone... well, now you know what to do with them).
Subscribe to our podcast feed to get each episode of Doctor Who: Podshock automatically using either Apple iTunes or your favourite podcast ("catcher") client software. While iTunes is great and easy to use, you may want more features and functions for subscribing to podcasts. Simply copy and paste our feed address into your favourite podcast "catcher" client.
"We're hidden away with the most valuable collection of extraterrestrial artifacts in the world, and you just stumbled in by mistake?"
Outpost Gallifrey Presents:
Doctor Who: Podshock - Episode 149
Running Time: 1:39:50
DVD Easter Eggs, Doctor Who Fab Cafe reports from Tim Drury and Dave "AC" Cooper, news, feedback from Rassilon on Planet of the Dead, Tom, Rob Shear, and Chris in NC.
Hosted by Ken Deep, James Naughton, and Louis Trapani
You will find all postings of our previous episodes of Doctor Who: Podshock prior to episode 148 on our previous website where they are archived. Use the link before to find them.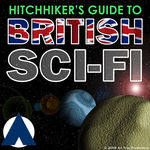 Hitchhiker's Guide to British Sci-Fi - Episode 4
Running Time: 1:00:48
Red Dwarf: Back to Earth reviewed, Life on Mars, Ashes to Ashes, Blake's 7 Audio Books, Torchwood, Paul Cornell's Captain Britain, and feedback from Miles Imel and Mark Goodacre.
Hosted by Louis Trapani, Ken Deep, and James Naughton.
"Is it usual for a host to kill a guest?"
Outpost Gallifrey Presents:
Doctor Who: Podshock - Episode 148
Running Time: 1:34:45
Review of the Four to Doomsday DVD, news, feedback from Jim E. Oconner, Don, James, Lela, Fox, Bruce Strong, Ralph, Mike, Kent, Eugenia & Gerri, and Ian Chesterton.
Hosted by Ken Deep, James Naughton, and Louis Trapani
How can I play AAC files on my non-iPod player?
We have two feeds, one is the enhanced podcast AAC format that will play in any device or software that is compatible with the AAC format (this automatically includes all Apple products such as the iPod, iPhone, iTunes, etc.). Enhanced podcasts include chapters, images, and URL links. They also support higher quality audio without increasing the file size. Our other feed is a plain MP3 format feed which should work in just about any device or player.
How do I subscribe?