Cybermen
---
In another Forbidden Planet exclusive, the 6th Doctor and stealth Cybermen collectable figure set will be available 01 October 2010. Available for pre-orders today for shipping to the UK and Ireland now for £24.99. This set includes the 6th Doctor and a Stealth Cyberman from the 1985 Doctor Who story Attack of the Cybermen. The Doctor comes with a signal tracker accessory and the Cyberman is equipped with a Cybergun.
These Cybermen figures are out for revenge in an exclusive set available now to pre-order from Forbidden Planet. This set contains the Cyber Leader and two Mark V Cybermen along with a Cybermat for good measure is expected on the 17th of November 2010. Relive the classic 4th Doctor story, The Revenge of the Cybermen otherwise they may turn you into a cyberbomb.
Pre-order price is currently £29.99 plus shipping. For more information or to place an order, click here.
"Why doesn't anybody ever want to meet Ringo?"
Doctor Who: Podshock - Episode 214
Running Time: 1:56:02
Terry Molloy (Davros) interviewed (by Nick Joy), Doctor Who Adventure Games reviewed, Changes in the new series, feedback, and more!
Hosted by Louis Trapani, Ken Deep, and James Naughton.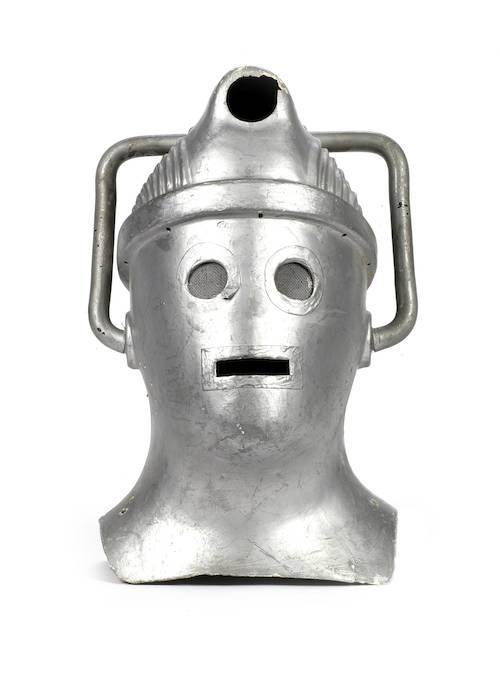 The above pictured Cyberman head from the Second Doctor's period is one of many articles going on sale once more at Bonhams in Knightsbridge London. Other props include Daleks also from this time (Power of the Daleks) K9 and two TARDIS's. The most interesting being the TARDIS from 2005 from 9th Doctor, Christopher Eccleston. This is part of an entertainment auction rather than just a Doctor Who specific one. The auction will be taking place at 11am on the 23rd of June 2010 and lot numbers are 126 to 142 inclusive. Lot 126 being an Dalek from The Chase and 142 being the 9th Doctors TARDIS.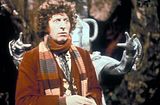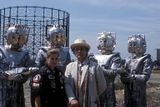 Revenge of the Cybermen and Silver Nemesis Have been cleared by the British Board of Film Classification as a Double DVD Trailer. As to when this box set will be realsed is anybody's Guess, and with Two of the most unpopular Cybermen stories of all time, one wonders what sales they will get. But that said it will be in my Pre-order list as soon as it's available, I'm somewhat of a Cyber-collector. "EXCELENT!"
1968's classic science fiction film, 2001: A Space Odyssey meets Doctor Who: Wheel in Space of the same year. Classic stuff.
According to the YouTube description by TardisTimegirl, it was made in Lightwave by Steve Skinner.
Cover art for Doctor Who: Podshock - Episode 153 reviewing the first Doctor regeneration story, The Tenth Planet.