Louis Trapani
---
Doctor Who: Podshock is the longest running Doctor Who podcast (internet radio show) presented by the fan run Gallifreyan Embassy (est. 1985) and is the official podcast of the Gallifrey One conventions. We feature interviews with the Doctor Who cast and crew along with the latest Doctor Who news, reviews, interviews, commentaries and discussions from an international perspective.
Hosted by Louis Trapani, Lee Shackleford, Kyle Jones, and Ian Bisset in the US, and Dave Cooper in the UK, and Graeme Sheridan in Germany with segments and contributions from regular corespondents around the world.
The award winning Doctor Who podcast; Doctor Who: Podshock began in 2005 on the 20th anniversary of the Gallifreyan Embassy. In that time, it quickly grew into one of the most popular Doctor Who podcasts and continues to be to this day.
Doctor Who: Podshock began in August 2005 with the first episode and it continues, stronger than ever, in 2015. Like The Doctor, it's regenerated and even changed the desktop theme. While it would be (virtually) impossible to included all the moments of 328 episodes, this brief tribute is..well, my tribute.
Doctor Who: Podshock 10th Anniversary
A heads up for those may not have caught the tweets from myself as well as @GEmbassy and @Podshock that there's another article in the Mineola Patch about our most recent 25th anniversary event for the Gallifreyan Embassy which was held last Tuesday at Eleanor Rigby's in Mineola, NY.
'Doctor Who' Actress Visits Mineola for Fan Club's 25th Anniversary - Mineola, NY Patch:

"'What started in 1985 with newsletters and meetings, in 2010 is now an online presence like the website or podcasts and things,' Louis Trapani told fellow fans of the 40-plus year British sci-fi series 'Doctor Who' gathered at Eleanor Rigby's Tuesday night. 'But there's still nothing better than good old-fashioned people getting together and having a good time and we have a great community of Doctor Who fans on Long Island.'

Along with fellow fan Ken Deep, Trapani is head of the 'Gallifreyan Embassy,' billed as the largest 'Doctor Who' fan club on Long Island, and which is celebrating its 25th anniversary this year. Deep said that it was 'fitting' that the group was in Mineola because club member Beth Trekman had been working at the Mineola post office where the original club newsletters were mailed. 'You used to see Mineola as our paid postage meter-thingy from the post office,' Deep said. 'Mineola has a special place in our hearts.'

Trapani said he decided to start a 'Doctor Who' fan club on Long Island in 1985 'since there was nothing there at that time, (and) since there was nothing there I said 'hey, I'll start it' and little did I know 25 years later they're still talking about it.'"

(Via mineola.patch.com - read the rest here)
"Good news everyone…" (I say in a Professor Fransworth voice from Futurama), The Sonic Newsdriver podcast is back and it's about time (and space of course). The latest episode is now available a week prior to the launch of the 4th series of The Sarah Jane Adventures, and as such, there's plenty of coverage about it in this episode, along with of course news about Doctor Who itself and more. It is a great way to stay on top of selected Doctor Who related news while on the go!
Sonic Newsdriver (03 October 2010) -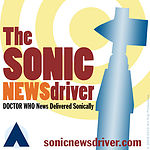 The Sonic Newsdriver 20101003
Selected Doctor Who related news delivered sonically.
For Earth-date: Sunday, the 3rd of Oct. 2010
Sarah Jane Adventures Return, Matt Smith is the Piano Man, Doctor Who Live news, Music News, Doctor Who and the Florence and the Machine, NYCC is Coming to Town, Your iPhone Just Got More Sonic, Party Like It's 1996, and more.
I meant to post this a couple weeks ago, but with series 31 wrapping up and with all of our live shows reviewing it all at the time, I never had a chance.
Even in this day of podcasts and other new media, the art of the fanzine is still around. As evidence is the launch of a new one covering Doctor Who, Fish FIngers and Custard.
In the premiere issue, it features a review of The Eleventh Hour, an article about the infamous 'PBS hijacking incident', Invasion Convention review, 'Cracks', an original 11th Doctor story, 'The Doctor in Wonderland', "It Could Have Been a Spin-off", a column by actor Harry Sedgewick, and what else?
Oh yes, an interview with some bloke named, Louis Trapani. There's much more, so check it out.
In honour of Sylvester McCoy returning to New York this month and the 25th anniversary of the Gallifreyan Embassy, we present you with this cut-down video of a WLIW pledge drive break from August 1987. At the time, like today, we had a new Doctor, the 7th Doctor, Sylvester McCoy, he along with the late Jon Pertwee and John Nathan-Turner, the then producer of Doctor Who are included in a pre-recorded interview segment in this 5th break of WLIW's Doctor Who marathon of The War Games. Eric Luskin of NJN conducts the interview.
Seen in this video among the Gallifreyan Embassy members volunteering is Ken Deep, and Louis Trapani of Doctor Who: Podshock, along with Tim Grogan, Beth Treckman, Pete "Bug" Reinert, PJ, "The Anti-Doctor", Monique, and others.
For those that follow me on Twitter, may know that I sometimes use AudioBoo to record short audio reports while on the road. It is usually while attending a conference or convention or some other event, though not limited to such. (If you want to know more about AudioBoo, back in 2008, I posted this blog about AudioBoo: Boo! AudioBoo! Mini Mobile Podcasting!)
This year's Gallifrey One convention (Gallifrey Blackjack 21) was no exception.