Tara Wheeler
---
Doctor Who: Podshock - Episode 252
Running Time: 1:29:27
Our coverage of San Diego Comic Con 2011 with Tara Wheeler.
Hosted by Louis Trapani ( @LouisTrapani ), Ken Deep ( @kendeep ), Tara Wheeler ( @TARDIS_Tara )
On Monday's episode of The Late Late Show with Craig Ferguson it featured a segment on Gallifrey One 2011 featuring video shot at the convention which included our banners for Doctor Who: Podshock, as well as Tara Wheeler's TARDIS and Tara @TARDIS_Tara herself.
If you missed the segment with Chris Hardwick and "Bridger" recorded at Gallifrey One for the late night show, Graeme Sheridan @The2ndDoctor has embedded a YouTube video of it in his post, Gallifrey One on the Craig Ferguson Show. (Watch it while you can in case it is pulled off of YouTube).
Chris Hardwick presented his report on Gallifrey one last night on the Craig Ferguson Show. Tara Wheeler @TARDIS_Tara and her TARDIS make up the end of the report. Plus a special appearance from the Head of Pertwee.
If you enjoyed our discussion on the ins and outs of building your own TARDIS (Police Box) in Doctor Who: Podshock 230 with special guests, the crew from The Happiness Patrol podcast, check out the latest episode of their podcast (The Happiness Patrol 47) in which I was invited on to talk about another Doctor Who icon, scarves!
Read my recent blog entry on ATP about it:
Come On, Get Happy! I'm on The Happiness Patrol! -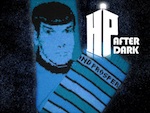 For what feels like for the longest time, we have been trying to get Lewis Bailey to join us on an episode Doctor Who: Podshock. Lewis does a podcast called The Happiness Patrol @TheHPatrol along with Dale Who @FishCustard2010 , Tara Wheeler @TARDIS_Tara (who you may also know as a Corespondent for Doctor Who: Podshock), and Lela Sandstrom @LelaSandstrom, due to scheduling reasons it never worked out. He has been also trying to get me on The Happiness Patrol as well for a while and for the same reason, it hadn't worked. Although we had Lewis on an episode in a recorded segment at the Doctor Who: Podshock 5th Anniversary Event we held last August as well on an episode from Gallifrey 21 last February in Los Angeles at our Meet & Greet Event there, this is the first time we have him on our show in a studio setting for Doctor Who: Podshock - Episode 230 along with Dale, Tara, and Lela. Not only is The Happiness Patrol in the latest episode of DWP, but I am in the latest episode of The Happiness Patrol as well!
The last couple days, Doctor Who: Podshock Correspondent, Tara Wheeler @TARDIS_Tara has been on the hunt for Matt Smith who is in the US currently shooting Doctor Who in Utah for the upcoming new 2011 series. Matt Smith also appeared on The Late Late Show with Craig Ferguson on Tuesday.
From this photo that Tara has posted to her Tumblr blog, it appears she has found what she was looking for today. Somehow I am not surprised. When Tara has a goal set in her sights, there's very little that can come between it and her. She hasn't checked in with us since as of yet and I haven't caught up with her Twitter feed yet, so I don't have the details just now, but the photo seems to have been posted about 2 hours ago.
After showering and cutting my hair (and worrying if I had cut it too short), I was pretty much set for another all-nighter editing Doctor Who: Podshock 224. Then to my surprise, I received an invite via Twitter from (DWP Correspondent) Tara Wheeler @TARDIS_Tara to join her and others to listen to David Tennant on Absolute Radio in the UK. Tara said they were all "dancing." This must had been around 1:30 AM (EDT).
Ok, I could do that. I hadn't heard David Tennant interviewed since his returning to the UK after working here in the States. I figured I would pop over to the live streaming audio of the radio station with the simultaneous webcam view (when it wasn't failing) and see what David Tennant had to say in what I assumed would be a quick interview.
Little did I know once I got there, there was no Mr. Tennant to be found. One of the webcams had a view of an empty chair. So I assumed since they had been dancing before, I must had just missed his interview. I was about to say, "Oh well" and get back to work when I was informed that he had yet to come on. That they were still waiting for him.
Cheers to Doctor Who: Podshock Correspondent Tara Wheeler @TARDIS_Tara on her new transdimensional tattoo. We all watched last night via Twitter as she, her DH (David Wheeler), and Emily @emilyooo documented Tara's adventure. Tara being Tara of course brought colour samples of the scarf for Jon Reed, the tattooist to use... Yes, I said scarf. As you can see, a scarf is also included in the TARDIS (police box) image.
No, I already asked if dematerializing ink was used on it. She said that is on the other shoulder.
Was it painful?
"I see, you're one of those boring maniacs who's going to gloat. Are you going to tell me your plan for running the universe?"
Doctor Who: Podshock - Episode 215
Running Time: 1:41:54
Doctor Who: Robots of Death reviewed, Joshua Lou Friedman is back with us talking about his latest film project Bulla and his trip to the UK, Tara Wheeler reports in from San Diego Comic Con, Congratulations to Robin Dal Pozzo McVay, news, and more!
Hosted by Louis Trapani, Ken Deep, James Naughton, and Joshua Lou Friedman.
Doctor Who: Podshock correspondents Tara Wheeler and Ian Bisset.
Photo by Lewis Bailey
USA Today's Pop Candy showcases our own Tara Wheeler in the article, "This 'Doctor Who' fan's passion shows… in scarves"
Actor Matt Smith (The 11th Doctor) had been photographed wearing the scarf that Tara had knitted for Anthony Burdge (contributing author of the book, The Mythological Dimensions of Doctor Who) who attended the Doctor Who screening in New York at the East Village Cinema. The photos had been used in a previous Pop Candy article which Tara had spotted her scarf.