Doctor Who
---
And so we lose another great actor who's appearances in Doctor Who are long and note worthy.
Philip Madoc died today Monday, 5th March after a short illness at the age of 77. His agent Michael Hallet said he passed away in hospital in Hertfordshire surrounded by his family.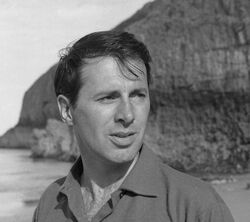 It saddens me to say that we've lost another Doctor Who vetran. Peter Halliday passed way on the 19th of February. It's taken a while for the information to filter out, Peter for most shall be remembered as the unfortunate, violence happy Packer in The Invasion along side Patrick Troughton and Kevin Stoney. But it was not to be his only role, he also did voices for The Silurians and Ambassadors of Death in Jon Pertwee's 1st full Season. Then going on to star as Plectrac in Carnival of Monsters.
Later he appeared along side Tom Baker in the City of Death, as a soldier, and finally along side Sylvester McCoy in Remembrance of the Daleks as the Vicar in the closing moments of Episode 4.
The shooting for Series 7 is due to start on the 20th February, with rehersals starting this Monday on the 13th.
Writers so far include Steven Moffat, Mark Gattis & John Fay the latter was part resposible for Torchwood Children of Earth. To them Gareth Robberts and Chris "42" Chibnell have also been added, Chris's episode being looked at, at this moment in time for Episode 3.
So spoiler-phobes from the 20th of February fingers in ears and chant the mantra, It's not on TV yet, It's not on TV yet, na na na na na! But I'll see it soon enough....
Doctor Who: Podshock - Episode 265
Running Time: 1:55:13
Classic Jon Pertwee story, 'Doctor Who and the Silurians' DVD is reviewed, parts 3 and 4 of the Frazer Hines interview series (concludes), news, and more. Hosted by Louis Trapani, Ken Deep, and Dave Cooper.
Both Matt Smith and Karen Gillan won thier catagories at the NTA or National Television Awards.
Matt won for best for Best Performance Male Drama, and Karen for Best performance Female Drama.
Doctor Who was nominated for the Best Drama catagory but lost out to Downton Abbey, which stars Hugh Bonniville. Who most who fans will remember as the Captain from the Series 6 Episode "Curse of the Black Spot"
On the red carpet it seemed like Matt has caught Moffeteitis in that he gave two different accounts of how long he was going to stay as the Doctor. The Youtube clip are underneath, you can decide fro yourself.
Doctor Who: Podshock - Episode 264
Running Time: 1:14:53
We review the 2011 Doctor Who Christmas special, 'The Doctor, The Widow and the Wardrobe' with your live feedback. Hosted by Louis Trapani and Dave Cooper.
Often at the end of each year society looks back at those we have lost in the past year as a memorial. That is what this video does in regards to Doctor Who. This year being especially tough as we lost two performers that played major key companion roles in the series, but every passing is sad.
Video by "MysteronAgent" on YouTube. Discovered via Graeme Sheridan.
Doctor Who: Podshock will be once again be taking to the net this Wednesday, 28 December 2011 for a live-over-the-net show reviewing episodes of the new series with your live feedback, this time it's the Christmas special episode of 2011, The Doctor, The Widow and the Wardrobe.
5 TARDIS Groans
25% (5 votes)
4 TARDIS Groans
25% (5 votes)
3 TARDIS Groans
10% (2 votes)
2 TARDIS Groans
20% (4 votes)
1 TARDIS Groan
10% (2 votes)
0 TARDIS Groans
10% (2 votes)
Total votes: 20
Traditionally at this time of the year, it is common to look back at the past year before leaping forward into the new year. We'll do one better… actually forty seven better by looking back at the past 48 years of Doctor Who in this timeline infographic. So before you ring in the new year, look back at the past years of your favourite Time Lord in this in-depth overview of the Doctor's adventures through the years on television along with his companions and iconic foes.
Special thanks to James of cabletv.com for allowing us to share this with you.