Doctor Who
---
Doctor Who: Podshock - Episode 252
Running Time: 1:29:27
Our coverage of San Diego Comic Con 2011 with Tara Wheeler.
Hosted by Louis Trapani ( @LouisTrapani ), Ken Deep ( @kendeep ), Tara Wheeler ( @TARDIS_Tara )
Last April we suffered a huge unexpected loss in the Doctor Who community and beyond. The death of the beloved actress, Elisabeth Sladen. Almost immediately following it, DWP Correspondent-At-Large, Colin (AKA "Abersoch") contacted me about putting together a special episode of Doctor Who: Podshock to celebrate Elisabeth Sladen and the Sarah Jane Smith character.
We had just started our series of live shows reviewing the new Doctor Who episodes from the spring 2011 series while Colin and I were discussing what we could do for a tribute. We couldn't record it then. Now that we are in between the spring block and the late summer/autumn block of new 2011 Doctor Who episodes, it allows us to record this celebration episode.
From San Diego Comic Con, a preview of Toby Whithouse's upcoming Doctor Who episode.
SDCC Reddit questions with Matt Smith and Karen Gillan.
We're still not sure as to when the second half of Series 6 will start, the hint from BBC America is The 27th of August, but the trailer has been released, so get your pause buttons ready for analasis!
Matt Smith appeared on a TV Guide Fan Favorite panel at San Diego Comic Con currently underway in Califronia, USA. On the panel, he mentioned in reference to the episode, A Good Man Goes to War that he thought the Doctor would had caught on sooner who River Song really was and he also mentioned that is all-time favorite Doctor is Patrick Troughton, the 2nd Doctor.
'Doctor Who': Matt Smith tells Comic-Con about 'Let's Kill Hitler' and River Song payoff - From Inside the Box - Zap2it: "The real "Doctor Who" fun doesn't start at Comic-Con until Sunday (July 24), when stars Matt Smith and Karen Gillan join writer (and "Being Human" creator) Toby Whithouse and executive producers Piers Wenger and Beth Willis for a panel in Hall H.

But that didn't stop Smith from making an early appearance at the TV Guide Fan Favorite panel, where he slipped a few teases about the upcoming second half of Season 6 and indulged in a little time travel fantasizing.

When asked about his favorite episode in his two-year tenure as the Doctor, he confessed that it's still to come. "The next episode... 'Let's Kill Hitler,'" says Smith. "[Creator] Steven [Moffat] is in fine form, and there's a great monster, which is important.""

(Via Zap2it - Read the rest of the article here)
A collaborative creation of Doctor Who fan musicians participating together in the Doctor Who Fan Orchestra presents their first offering, 'I Am The Doctor' by Murray Gold. They invite musical fans of Doctor Who to take part in their online collaborations.
(Thanks to @wilcantrell for the heads up on it on Google+)
Doctor Who: Podshock - Episode 251
Running Time: 1:53:14
Doctor Who fandom on Second Life and beyond. Featuring the Doctor Who Fandom Panel on Second Life at SL8B with Saffia Widdershins (moderator) of Prim Perfect Magazine, Terry Lightfoot @TerryLightfoot & Oolon Sputnik @OolonSputnik of the Dirty Whoers and New Gallifrey, Sen of Hands of Omega, Dave Lewis @Doctor_No1 of Paradox Island and TARDIS Newsroom, Tristan Avedon @tristanavedon of Who Island, Victor 1st Mornington @vic1st of the Doctor Who Exposition and Katrina, and Louis Trapani @LouisTrapani of Doctor Who: Podshock.
Hosted by Louis Trapani ( @LouisTrapani )
Hold tight for the next DW: Podshock episode coming soon… in the meantime, there's a new episode of The Sonic Newsdriver out today filled with Doctor Who, Torchwood, and related news.
Sonic Newsdriver (8 July 2011) - Doctor Who News -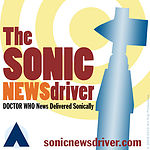 The Sonic Newsdriver 20110708
Selected Doctor Who related news delivered sonically.
For Earth-date: Friday, the 8th of July 2011
In this episode: Torchwood Comes to Starz on Friday, John Barrowman as the Doctor, Speaking of Kilts, A Doctor - Not The Doctor in Torchwood, Great Leaping Doctors - Batman, Farewell to Beth Willis, Doctor Who is on for 2012 or is it and more!
Hosted by Louis Trapani • @LouisTrapani
Those of you lucky enough or ahem brave enough to go to SDCC (San Diago Comic Con) can get this exclusive from Underground Toys, River Song with Pandorica Chair. As to whether it will fit together with last years Pandorica sides which housed a free cd, is anybodys guess.
But it's not the only new piece of new kit from Underground Toys/Character Options, these fortunately aren't exclusives. To this there are Errrrrr.... Cuddly Daleks? yes that's right Soft Daleks which come in red or blue. But that's not all to that a Cuddly TARDIS, both the Daleks and TARDIS have sound and the Tardis's lamp light up as well.