Doctor Who
---
Doctor Who: Podshock - Episode 243
Running Time: 1:39:24
Elisabeth Sladen's passing and other Doctor Who news, Anthony S Burdge and Jessica Burke report on the Doctor Who 2011 NYC Premiere event, feedback, and more.
Hosted by Louis Trapani ( @LouisTrapani ), Ken Deep ( @kendeep ), and James Naughton ( @JamesNaughton )
DVR Alert:
Karen Gillan (Amy Pond) is one of the guests tonight on The Late Late Show with Craig Ferguson. This is the episode she recorded last week (as mentioned in Doctor Who: Podshock 243). The show is on at 12:37am (technically Saturday) EDT, check your local listings in your area for show times in your area.
Late Late Show - This Week's Guests - CBS.com: "Friday, April 22: Diane Lane, Karen Gillan"

(Via www.cbs.com)

Photo: © 2010 @LouisTrapani
Thank you for voting and making Doctor Who: Podshock the winner of BEST PODCAST in the SFX Blog Awards 2011. It was an honour to be nominated. We were in great company with other nominees. They are all winners in our book. We were nominated in the one of the six categories this year for Best Podcast.
Other categories included Best Online Fan Community, Best SF News Blog, Best Literary Blog, Best Franchise Specific Site, and Best Celebrity Blog.
We thank everyone that voted, the members of the SFX Forum, SFX team members, SFX Bloggers, and everyone that contributes to our podcast, Doctor Who: Podshock as well as our website here.
Once again it was a privilege just to be nominated.
For more on SFX Magazine and their website visit them at sfx.co.uk.
Elisabeth Sladen (Sarah Jane Smith of Doctor Who and The Sarah Jane Adventures) has died at the age of 63 I am so sad to report…
I was stunned and dismayed when read the news of passing of Elisabeth Sladen today from a tweet from Gallifrey One. I am at a lost for words. This news came to me very unexpected as I am sure it does for all Doctor Who and Sarah Jane Adventures fans. I don't know what to say at this point. Writer Paul Cornell and actress Nicola Bryant have also confirmed the news by tweeting their sentiments as well. BBC News has also confirmed it in a short statement (now a full obituary).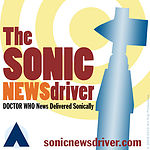 We are a week out from the launch of the new 2011 series of Doctor Who. I don't where the time goes. It's here again. Being that the next Sunday after next Saturday's premiere is a holiday, the first live over-the-net show reviewing the new Doctor Who episodes of Doctor Who: Podshock will be on the following Sunday, May 1st. We may or may not be using Talkshoe again. I am exploring other options if anyone has any to offer. Stay tuned here for forthcoming details.
But before next Saturday comes, this Saturday (April 16, 2011), or for some already, today, I will be speaking on a panel at I-CON 30 from 3pm to 4pm (EDT) (in room 111 in the Javits Lecture Hall at SUNY, Stony Brook, NY). The panel is titled, '21st Century Doctor Who.' Ken Deep of Doctor Who: Podshock will also be on the panel. The panel is being organized by Docking Bay 516 for I-CON. So if you are attending I-CON this year, be sure to attend this panel.
In the meantime, the latest episode of The Sonic Newsdriver is available. Along with the usual Doctor Who related news, it features a 'live' interview with Anthony S Burdge @MythicDocWho while he was in line for the special premiere showing of the first two episodes of the new series in NYC which took place on Monday, April 11th.
Speaking of The Sonic Newsdriver, the companion app for the podcast is already available in the Apple iTunes App Store for iOS devices (App Store link) and on AppBrain for Android devices, it is now also in the Amazon Appstore for Android devices. See details here.
The cast of Doctor Who arrives at the East Village Cinema in New York City for the second year in a row now for a premiere screening of the start of the 2011 series. Among the cast are Matt Smtih, Karen Gillan, Arthur Darvill, Alex Kingston, joined by Executive Producer and Lead Writer, Steven Moffat. If you watch closely in the background, you can spot Barnaby Edwards (of DWNY and blogger here on our site) as well.
OK This time it's a trailer from the CBBC the Childrens BBC basically, and there are Two new short clips in it so eyes open for one, the other is obvious.
For those of you like me who didn't/couldn't make it to the East Village Cinema yesterday then here's a few photo's of the cast posing for the camera. Hmmm I see a scarf in the background in one... Hmmm.