Doctor Who
---
Even though we are still a couple weeks away from the airing of Doctor Who: A Christmas Carol (coming to BBC (6pm) and BBC America (9pm) on the 25th of December), we already have a release date for the special on Blu-ray and DVD.
Just in time for Gallifrey 22, the special is slated for release on the 15th of February. So much for giving it as a Valentine's Day gift. Along with the special, the accompanying 'Doctor Who: Confidential' on it and 'Doctor Who at the Proms 2010' will be included as bonus material.
We can also assume that the special will be available on iTunes the day after it is shown on BBC America, so figure on it being there on Boxing Day.
Coming soon to the the iPhone, iPad, and iPod touch - Doctor Who: The Mazes of Time. Take a look at a demo of it being played on an iPad.
If you enjoyed our discussion on the ins and outs of building your own TARDIS (Police Box) in Doctor Who: Podshock 230 with special guests, the crew from The Happiness Patrol podcast, check out the latest episode of their podcast (The Happiness Patrol 47) in which I was invited on to talk about another Doctor Who icon, scarves!
Read my recent blog entry on ATP about it:
Come On, Get Happy! I'm on The Happiness Patrol! -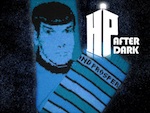 For what feels like for the longest time, we have been trying to get Lewis Bailey to join us on an episode Doctor Who: Podshock. Lewis does a podcast called The Happiness Patrol @TheHPatrol along with Dale Who @FishCustard2010 , Tara Wheeler @TARDIS_Tara (who you may also know as a Corespondent for Doctor Who: Podshock), and Lela Sandstrom @LelaSandstrom, due to scheduling reasons it never worked out. He has been also trying to get me on The Happiness Patrol as well for a while and for the same reason, it hadn't worked. Although we had Lewis on an episode in a recorded segment at the Doctor Who: Podshock 5th Anniversary Event we held last August as well on an episode from Gallifrey 21 last February in Los Angeles at our Meet & Greet Event there, this is the first time we have him on our show in a studio setting for Doctor Who: Podshock - Episode 230 along with Dale, Tara, and Lela. Not only is The Happiness Patrol in the latest episode of DWP, but I am in the latest episode of The Happiness Patrol as well!
"Oh, I see you've been doing the TARDIS up a bit. Hmm, I don't like it."
Doctor Who: Podshock - Episode 230
Running Time: 1:44:00
Part 2 of our Interview with Paul Scoones @paul_scoones (responsible for Doctor Who DVD info text) by Ian Bisset @The6thDoctor , the Inside-Out of Building a TARDIS (Police Box) with Lewis Bailey, Dale Who @FishCustard2010 , Tara Wheeler @TARDIS_Tara , and Lela Sandstrom @LelaSandstrom of The Happiness Patrol @TheHPatrol podcast, Doctor Who news, and more.
Hosted by Louis Trapani ( @LouisTrapani ).
This is like someone getting peanut butter in my chocolate, or something like that (actually, I am not too keen mixing the two). This video marries two of my favourite pastimes, Star Wars and Doctor Who. It doesn't make much sense, but it is fun and interesting to look at, that much is certain. Ha! You have to love Amy Pond in it. Outstanding production values for a parody project like this… Thanks to @steven3x for the heads up on it.
"Grace, I came back to life before your eyes. I held back death."
Doctor Who: Podshock - Episode 229 EXTRA Edition
Running Time: 1:15:48
In this Extra Edition of Doctor Who: Podshock we include our interview and Q&A with Daphne Ashbrook (Grace from the 1996 Doctor Who movie) from last month's 25th anniversary event for the Gallifreyan Embassy.
Hosted by Louis Trapani ( @LouisTrapani ) and Ken Deep ( @kendeep ).
The BBC Press Office released more information about the upcoming Doctor Who Christmas special for 2010, titled, A Christmas Carol. The special will be transmitted on the BBC and BBC America on Christmas Day.
BBC - Press Office - Doctor Who: A Christmas Carol introduction:
If you watched The Late Late Show with Craig Ferguson a couple weeks ago with special guest, Matt Smith, you would know that they prepared a song that in the end they could not transmit on the show due to not having the clearances. That didn't stop Craig Ferguson from suggesting or hinting that someone should put it up on YouTube… Here's the "musical extravaganza that never made the show."
For those that follow me on Twitter probably know I had been fighting off some nasty bug shortly after the GE anniversary event, then came the Thanksgiving Day holiday here in the US... Long story short, it delayed production of all shows coming from ATP including Doctor Who: Podshock of course. Fear not though, there will be new episodes coming down the vortex soon starting with a DWP Extra show for supporting subscribers. We will try to step up production to catch up on the last couple weeks.
First up is a new episode of The Sonic Newsdriver. Available on The Sonic Newsdriver feed and on the Sonic Newsdriver Podcast App for the iPhone / iPod touch. See details below.
There are a bunch of articles I've been meaning to write since last week, unfortunately I have been fighting off a nasty bug I probably picked up at our anniversary event a week ago. And no, that would not be 'Bug' as in Pete's nickname who was there.
With that said, this may be old news, but only if you haven't seen it already. Below is a publicity photo for the upcoming 2010 Doctor Who Christmas special, A Christmas Carol that the BBC released recently.
@BBCAmerica had tweeted a slightly alternate version here.