Doctor Who
---
Late last night/early this morning the Doctor Who restoration team dropped a teaser on Twitter, for an announcement on Saturday. By the looks of it there are going to be more "Special Editions" and by the style of writing another Dalek one at that. see the trailer below and decide for yourself.
The Seeds of Doom DVD release is one that is extra special for Doctor Who: Podshock. You will know why when you view the extras included in the release. Here is promo video for the upcoming Tom Baker as the 4th Doctor DVD title.
(via David Lewis @Doctor_No1 and TemporalOrbit)
Doctor Who: Podshock - Aftershock 20101006
Running Time: 0:09:39
In this brief Aftershock episode of Doctor Who: Podshock we announce our new DWP Podcast Companion App, the upcoming Gallifreyan Embassy Anniversary Event, and our live show at NYCC with Tony Lee @mrtonylee .
Hosted by Louis Trapani ( @LouisTrapani ), Ken Deep ( @kendeep ), and James Naughton ( @JamesNaughton ).
"I don't know where we're going but my old hand's very excited about it!"
Doctor Who: Podshock - Episode 223 EXTRA Edition
Running Time: 0:38:33
In this Extra Edition of Doctor Who: Podshock we interview a director who has worked on Doctor Who, The Sarah Jane Adventures and Torchwood: Alice Troughton. Plus Doctor Who news, and some special show announcements in this Doctor Who: Podshock Extra Edition.
Hosted by Louis Trapani ( @LouisTrapani ), Ken Deep ( @kendeep ), and James Naughton ( @JamesNaughton ).
"Good news everyone…" (I say in a Professor Fransworth voice from Futurama), The Sonic Newsdriver podcast is back and it's about time (and space of course). The latest episode is now available a week prior to the launch of the 4th series of The Sarah Jane Adventures, and as such, there's plenty of coverage about it in this episode, along with of course news about Doctor Who itself and more. It is a great way to stay on top of selected Doctor Who related news while on the go!
Sonic Newsdriver (03 October 2010) -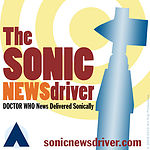 The Sonic Newsdriver 20101003
Selected Doctor Who related news delivered sonically.
For Earth-date: Sunday, the 3rd of Oct. 2010
Sarah Jane Adventures Return, Matt Smith is the Piano Man, Doctor Who Live news, Music News, Doctor Who and the Florence and the Machine, NYCC is Coming to Town, Your iPhone Just Got More Sonic, Party Like It's 1996, and more.
Doctor Who: Podshock returns to Manhattan this month for another live recording at New York Comic Con (NYCC). Taking place at 4pm on Sunday, the 10th of October 2010 or simply: 10•10•10
Our special invited guest is the one and only Tony Lee!
Although this is our second live recording of Doctor Who: Podshock in Manhattan this year, it is our first at NYCC. The convention runs from Friday, the 8th to Sunday, the 10th of October at the Jacob K. Javitts Center in New York, NY. For further details about the convention including ticket prices, visit their website, newyorkcomiccon.com.
Below is the trailer from the BBC for the Autumn winter series it has 3 Doctors (all new series Doctors at that) and the other drama Matt Smith worked on also gets a quick clip. The trailer is not region locked so enjoy. (Spoilers are minimal, showing mostly actors and nothing much else)
Forbidden Planet has announced the first of the Wave 2 of figures for Doctor Who Series 5.
They include the Dalek Progenitor Guardian (pictured left), Prisoner Zero, A smiler, The Son from the Vampires in Venice and an Roman Auton. See here for details and to pre-order.
BBC Worldwide have announced that the Doctor Who Exhibitions in Cardiff, Lands End and Newcastle are to close. This follows 18 month long talks with Cardiff City Council for a new and bigger location. It appears that the three exhibitions will be consolidated into one BIG experience in Cardiff.
Newcastle will be the first to close on October the 31st 2010 followed by Lands End on January the 2nd 2011, and finally Cardiff on March the 27th 2011. Details as to where and when in Cardiff the new attraction opens has yet to be announced.
Come and join us for a very special event celebrating 25 years of the Gallifreyan Embassy on Tuesday, the 16th of November 2010 with our very special invited guest, the lovely Daphne Ashbrook!
We have been celebrating the quarter of a century mark of the Gallifreyan Embassy all this year. If you missed our last big event in May, here's another opportunity to join in on the fun!
Joining us at the event is the always lovely Daphne Ashbrook (Grace Holloway in the 1996 Doctor Who movie).
Date: Tuesday, 16 November 2010
Time: 7pm Eastern until (to be announced)
Location: Eleanor Rigby's • 113 Mineola Blvd., Mineola, NY
Cover: $20.00 (Podshock Supporting Subscribers receive a 20% discount)
The event is taking place at Eleanor Rigby's in Mineola, NY. As you may have guessed by the name, it is a Beatles themed venue. It is very accessible from the LIRR train station as well as the Long Island Expressway and Northern & Meadowbrook State Parkways and there is plenty of parking in the rear. They offer a varied selection of menu options for food and beverages. Visit their website for more details and menu offerings. (Please note that the cover charge does not include food or drinks).
For 25 years now the Gallifreyan Embassy has been celebrating the adventures of a certain Time Lord through time and space. Now we are coming together to mark the milestone at this event which is open to everyone (you don't need to have been or be a member of the Gallifreyan Embassy).