Doctor Who
---
Further to the Restoration Team's little tease I put up on Thursday/Friday last week, the reveal.
It's a totally revamped version of Day of The Daleks. OK as far as I can remember it's only on VHS so far, but the revamp comes not only with the special effects of modern Dalek zapping, which can be seen in the trailer. But Mr. Dalek AKA Nick Briggs re-does the voices for this release. There also comes the news that at least on the European side of the Atlantic that Day of the Daleks will be part of the Revisitations Boxed Set Nr. 2.
The other DVD's should be Carnival of monsters and Resurrection of the Daleks, which is again another one I already have in my collection. With Carnival it's not so bad I looked at the lack of extra's and picked it up on iTunes.
A release date has not yet been set. The trailer from Classic DW from Twitter (the official Restoration Team Twitter handle) and the DWO site can be seen below.
So this started off as a rumour on Friday, and according at least to BBC America is going to happen.
A collaboration between the BBC and BBC America sees a filming block taking part in the US, Utah to be a little more specific, according to press, the Doctor, Amy, Rory and River land in Utah, more than that I shall not reveal because it gets into major spoiler territory. Only I do have a BBC America clip for you.
This Week In Doctor Who – October 9, 2010 Section A
October 9, 2010 – Vol 13, Number 31
By Benjamin F Elliott
http://tv.groups.yahoo.com/group/thisweekindoctorwho
All the known broadcasts of Doctor Who and its spinoffs, chronicled weekly. Established 1998.
Hello, everybody! It's good to be back. Please let me know if I am missing listings.
Late last night/early this morning the Doctor Who restoration team dropped a teaser on Twitter, for an announcement on Saturday. By the looks of it there are going to be more "Special Editions" and by the style of writing another Dalek one at that. see the trailer below and decide for yourself.
The Seeds of Doom DVD release is one that is extra special for Doctor Who: Podshock. You will know why when you view the extras included in the release. Here is promo video for the upcoming Tom Baker as the 4th Doctor DVD title.
(via David Lewis @Doctor_No1 and TemporalOrbit)
Doctor Who: Podshock - Aftershock 20101006
Running Time: 0:09:39
In this brief Aftershock episode of Doctor Who: Podshock we announce our new DWP Podcast Companion App, the upcoming Gallifreyan Embassy Anniversary Event, and our live show at NYCC with Tony Lee @mrtonylee .
Hosted by Louis Trapani ( @LouisTrapani ), Ken Deep ( @kendeep ), and James Naughton ( @JamesNaughton ).
"I don't know where we're going but my old hand's very excited about it!"
Doctor Who: Podshock - Episode 223 EXTRA Edition
Running Time: 0:38:33
In this Extra Edition of Doctor Who: Podshock we interview a director who has worked on Doctor Who, The Sarah Jane Adventures and Torchwood: Alice Troughton. Plus Doctor Who news, and some special show announcements in this Doctor Who: Podshock Extra Edition.
Hosted by Louis Trapani ( @LouisTrapani ), Ken Deep ( @kendeep ), and James Naughton ( @JamesNaughton ).
"Good news everyone…" (I say in a Professor Fransworth voice from Futurama), The Sonic Newsdriver podcast is back and it's about time (and space of course). The latest episode is now available a week prior to the launch of the 4th series of The Sarah Jane Adventures, and as such, there's plenty of coverage about it in this episode, along with of course news about Doctor Who itself and more. It is a great way to stay on top of selected Doctor Who related news while on the go!
Sonic Newsdriver (03 October 2010) -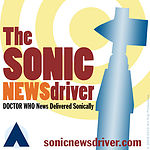 The Sonic Newsdriver 20101003
Selected Doctor Who related news delivered sonically.
For Earth-date: Sunday, the 3rd of Oct. 2010
Sarah Jane Adventures Return, Matt Smith is the Piano Man, Doctor Who Live news, Music News, Doctor Who and the Florence and the Machine, NYCC is Coming to Town, Your iPhone Just Got More Sonic, Party Like It's 1996, and more.
Doctor Who: Podshock returns to Manhattan this month for another live recording at New York Comic Con (NYCC). Taking place at 4pm on Sunday, the 10th of October 2010 or simply: 10•10•10
Our special invited guest is the one and only Tony Lee!
Although this is our second live recording of Doctor Who: Podshock in Manhattan this year, it is our first at NYCC. The convention runs from Friday, the 8th to Sunday, the 10th of October at the Jacob K. Javitts Center in New York, NY. For further details about the convention including ticket prices, visit their website, newyorkcomiccon.com.
Below is the trailer from the BBC for the Autumn winter series it has 3 Doctors (all new series Doctors at that) and the other drama Matt Smith worked on also gets a quick clip. The trailer is not region locked so enjoy. (Spoilers are minimal, showing mostly actors and nothing much else)