Doctor Who
---
The date was 23 April 2009. The Telegraph runs the following story about Gillian Anderson being cast as The Rani in Doctor Who (see link and quote below). Since that time we have seen a year of specials starring David Tennant and a whole new series starring Matt Smith. Where's Gillian Anderson? We are still waiting...
Doctor Who at the Proms 2, will take place on the 24 and 25 of July at the Royal Albert Hall full details from the BBC to follow at the end of this article. This time it will be presented by Matt Smith and Karen Gillan and Arthur Darvill.
And so to the Details.
The folks at CTV and SPACE have asked me to pass along details of this upcoming event to our readers:
"On Saturday, July 24 at 9 p.m. ET, the smash-hit first season of the regenerated DOCTOR WHO is checking out with a bang with the season's final episode, "The Big Bang." Immediately following the finale, SPACE celebrates the show's record-breaking run with a special edition of INNERSPACE at 10:10 p.m. ET. Broadcasting live in front of a studio audience from SPACE headquarters in Toronto, this one-hour special is hosted by INNERSPACE host and genre expert Teddy Wilson and features an expert panel, never seen before interviews and a live web chat.
What: InnerSPACE LIVE: Doctor Who - season finale and aftershow!
When: Saturday July 24th from 9pm - 11pm (audience to arrive by 8:15pm)
Where: CTV Headquarters, 299 Queen St. West, Toronto, Ontario
This is the Sight that greets you when you go to Mr. Steven Moffats Twitter page, yes the Great Moff is now on twitter. Just overnight his followers went up from 849 as I started following him to the Current amount of 3197. If you don't want to have any insite into Who production until the Confidential is broadcast I suggest that you don't follow him. For those of you who do then he is @steven_moffat or you can go to http://twitter.com/steven_moffat
Apple iTunes is currently offering selected science fiction series premiere episodes for free. "For a limited time, download the first episodes of these series for free and own their first seasons for a great price"
Included in the offerings is Doctor Who (Rose) and Torchwood (Everything Changes (both SD and HD versions)). Other series include the recently re-imagined Battlestar Galactica series, Fringe, Heroes, Stargate SG-1, Eureka, Supernatural, Buffy the Vampire Slayer, The X-Files, Stargate Atlantis, Robin Hood, Star Trek: Enterprise, and Star Trek: Deep Space Nine.
Again, we don't know how long this will last as it only states "for a limited time" - so get them while you can.
Links to episodes: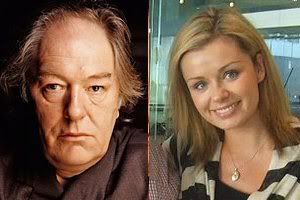 The BBC has confirmed veteran actor Michael Gambon and opera diva Katherine Jenkins will guest star in the 2010 Doctor Who Christmas special. Production starts today and will continue until August.
Michael Gambon, known for many roles all over Television and film, and mostly known lately for playing Dumbledore in four of the six Harry Potter films available, after original actor Richard Harris passed on.
"Bow ties are cool."
Doctor Who: Podshock - Episode 213 EXTRA Edition
Running Time: 0:42:16
In this Extra Edition of Doctor Who: Podshock we look back and review the 2010 series as a whole. Ken, James, and Louis give their thoughts about the first series with Matt Smith as the Doctor in this studio recorded episode.
Hosted by Louis Trapani, Ken Deep, and James Naughton.
So after what seems like an eternity and for some peculiar reason as to why the figures could not be released( The Official Viewing FIgures were with held by BARB on the BBC's request.) the final viewing figures for the "Big Bang" are available.
6.12 Million People Watched the Big Bang officially on BBC 1. with 0.72 Million watching the Repeat on BBC 3. as of yet I am unable to find the BBC HD numbers.
Earth, 2084. Two global superpowers hover on the brink of war. When the TARDIS is forced to make an unplanned visit to Sea Base Four, the Doctor (Peter Davison, The Last Detective), Tegan (Janet Fielding, Minder) and Turlough (Mark Strickson, A Christmas Carol) find themselves accused of being enemy agents.