charity
---
In case you missed it (as I had), here is the Doctor Who segment with Matt Smith from this year's Children in Need charity which also includes a 'trailer' preview of this year's Christmas special titled, The Doctor, The Widow, and the Wardrobe. The special is slated for Christmas Day in the UK.
Donate at www.bbc.co.uk/pudsey
We know we have been asking for your support so we can continue doing what we do, and although we still need that support, we hope we can extend that support as a community to help victims of the tragic quake in Haiti this week.
Resources are extremely limited in Haiti right now. While the death toll in the end will be staggering, there are many survivors that are in urgent need of medical attention.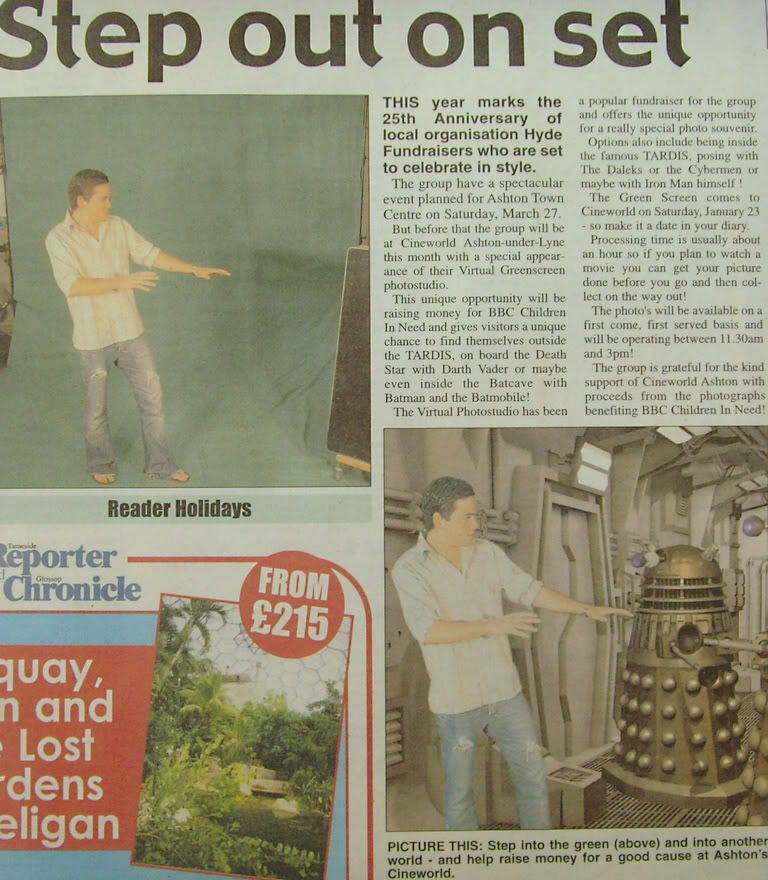 As many of the GE forum readers know I try to highlight the good work done by a local group here in the UK.
Well that group - The Hyde Fundrasiers reach their 25th Anniversary just like the GE this year!
The Charity group uses Doctor Who & other Science Fiction related characters to raise funds for local, national & international charities like Children in Need reach 25.
Cheers, daveac
Doctor Who fans are coming together on the net to help out a fellow fan and friend, Johanna Mead. Johanna ( @britgeekgrrl ) is well known at Doctor Who conventions across the US for her detailed and creative costumes, she is also a writer and an English expatriate living in northern California. Unfortunately, her husband had just recently lost his battle against cancer and the online community of fans and friends have come together to help raise money to help offset the costs of the final arrangements.
Johanna Mead (as Romana I) with The White Robot (Billy Davis) at Gallifrey 2009
The BBC Press Office announced the line up for the annual BBC Children in Need televised fundraiser which will return this year on the Friday, the 20th of November 2009 at 7pm on BBC One.
Among the highlights of the seven hour live show is similar last year, there will be a preview of this year's Doctor Who Christmas special. As you may recall last year, the Doctor Who Christmas special, The Next Doctor was previewed during the BBC Children in Need show by showing the first two minutes of the special.
Just a newspaper report on the Hyde Fundraisers Doctor Who Charity event that I posted a couple of YouTube videos on (dac100) and pictures at dac100 PhotoBucket.
Save to see full size:-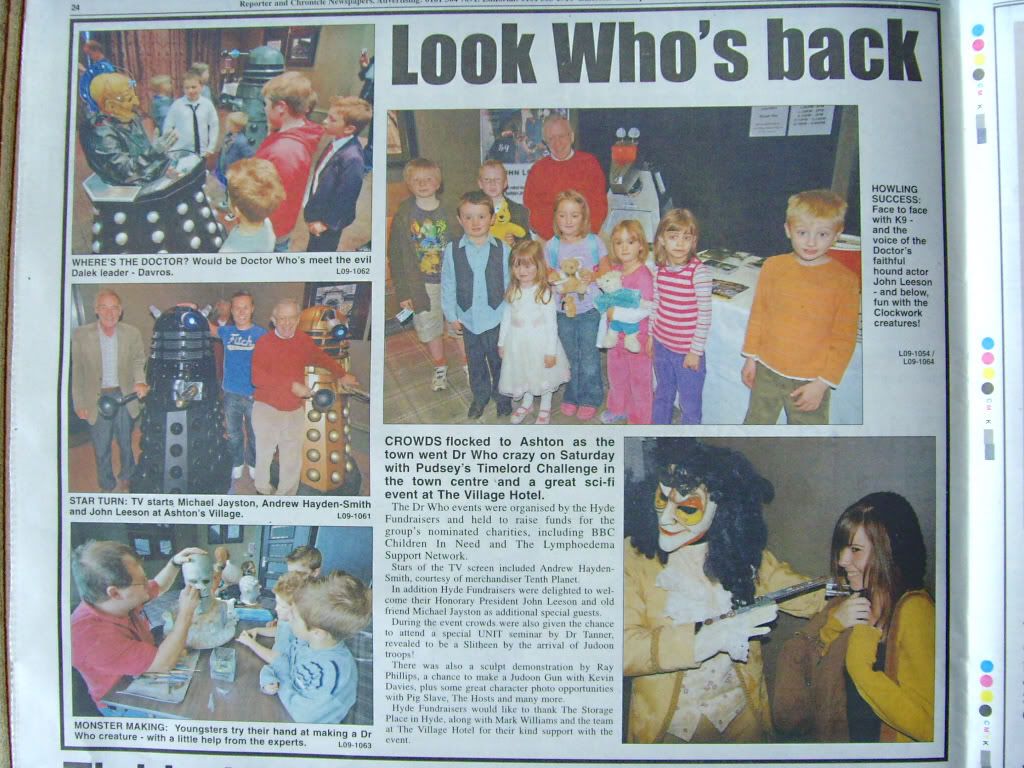 Cheers, daveac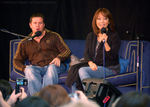 Kai Owen (Rhys Williams on Torchwood) will head up an emergency Wales charity volunteer drive for Save the Children according to a report in Walesonline.co.uk. The charity is looking for emergency workers to raise money when disaster hits such as earthquakes, typhoons, disease outbreaks, etc.
"When an emergency strikes, Save the Children leap into action so they can reach children and families caught up in a disaster as quickly as possible," Kai stated.
The Daily Mirror is reporting that all eleven Doctors will be coming together for a special one-off special for Children in Need this November. It reports that the 15 minute episode will be included in BBC1 annual Children In Need appeal in November and shooting of it will begin in September.
This is not the first time a rumour of this nature appeared in the tabloids. The same thing was said to be happening last year for Children in Need except with 10 Doctors which did not happen.
The article states that "images from their original shows, stretching from 1966 to 1974" will be used for the actors William Hartnell, Patrick Troughton, and Jon Pertwee who have since passed away. They will make cameo appearances through footage from these previous episodes.