BBC iPlayer
---
Doctor Who: Podshock Correspondent Dave Cooper @daveac had tweeted he was listening to episode 7 of "Doctor Who and The Brain of Morbius" on BBC7 radio on Saturday.
Episode 7, Dave? What of the episodes 1-6? Not a post here about it, Dave? Oh well.
This episode went out on BBC7 on Friday, 23rd April 2010 at 9:30am BST. It is available to listen to via the BBC iPlayer (without location restrictions) for the week (6 days left at the time of this posting).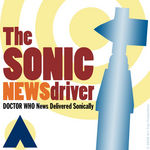 The Sonic Newsdriver 20100116
Selected Doctor Who related news delivered sonically.
For Earth-date: Saturday, the 16th of Jan. 2010
A Rose by Any Other Name, A Rose by the Name of Betty, Ch-Ch-Ch-Changes, End of Time Records for iPlayer, Way To Go Sister, Loose Scripts - Sink Ships, Scary Monsters - Super Creeps - Keep David Tennant Running Scared, and more.
Hosted by Louis Trapani
You can currently listen to Night Waves: Sacred Monsters (BBC Radio 3) which features new Doctor Who Executive Producer and Head Writer, Steven Moffat. He talks about his work on the series, Matt Smith as the new Doctor, and what we are about to see in the upcoming series.
Listen here: BBC iPlayer - Night Waves - Sacred Monsters
You can listen to today's BBC Radio 4 show "Shelved" on the net for the next 7 days. The 30 minute show recalls how some of the most popular shows from the late 1970's never made it to transmission, including The Professionals, Secret Army, and of course Doctor Who: Shada. Shaun Ley hosts with comments from Tom Baker.