Now more than ever, we need your support! Become a Supporting Subscriber today.
review
---
"The Time Lords are an immensely civilised race. We can control our own environment - we can live forever, barring accidents and we have the secret of space/time travel."
Doctor Who: Podshock - Episode 158
Running Time: 1:25:16
Coverage of San Diego Comic Con 2009, Dragon*Con, The War Games reviewed, Adric the Cricket, and more..
Hosted by Louis Trapani, James Naughton and Ken Deep, with Tara Wheeler.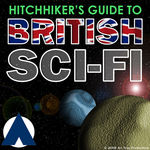 Hitchhiker's Guide to British Sci-Fi - Episode 5
Running Time: 1:32:09
Torchwood: Children of Earth review (located towards the end to avoid spoilers, the rest of this podcast proceeding the review is spoiler free), Blake's 7 Audio Books, Doctor Who's 11th Doctor's New Threads and TARDIS, Torchwood Radio Dramas, Mike's Comics Winners, feedback and more.
Hosted by Louis Trapani, Ken Deep, and James Naughton.
"Life depends on change, and renewal."
Outpost Gallifrey Presents:
Doctor Who: Podshock - Episode 155
Running Time: 1:32:48
Review of the first Patrick Troughton story, Power of the Daleks, news, Mike Doran joins us for a Who Party 14 Toronto Report, and feedback including a review of Prisoner of the Daleks by Dave (Skaroth), and feedback (Jordan, Steve Lee, Samantha (Romana II), and Companion2B (Sarah)).
"Ah, yes! Thank you. It's good. Keep warm."
Outpost Gallifrey Presents:
Doctor Who: Podshock - Episode 153
Running Time: 1:37:00
The first Doctor regeneration story, The Tenth Planet is reviewed, plus news, rumours, and feedback (from: Fox Cutter, Rooney, Richard, Jeremy Bement, Gregg (Th3AppStoreReviewer), Tiggs Panther, Graeme, and Donavon).
James Naughton is the last, but not least Doctor Who: Podshock host to guest on the Hoo on Who Doctor Who podcast hosted by David Hooie. Together in episode 10 of the podcast, they review the classic Tom Baker story on DVD, Pyramids of Mars.
Hoo on Who is available via iTunes and via its website.
"Is it usual for a host to kill a guest?"
Outpost Gallifrey Presents:
Doctor Who: Podshock - Episode 148
Running Time: 1:34:45
Review of the Four to Doomsday DVD, news, feedback from Jim E. Oconner, Don, James, Lela, Fox, Bruce Strong, Ralph, Mike, Kent, Eugenia & Gerri, and Ian Chesterton.
Hosted by Ken Deep, James Naughton, and Louis Trapani