Now more than ever, we need your support! Become a Supporting Subscriber today.
trailer
---
The latest promo for Doctor Who: Waters of Mars from today, the 4th of November 2009. The first of the last three specials with David Tennant as the 10th Doctor will be transmitted on Sunday, the 15th of this month on BBC One in the UK at 7pm. It will come to BBC America on the 19th of December at 9pm ET/PT.
Thanks to moses4611 on YouTube and @RadioFreeSkaro on Twitter
The latest trailer promo video for series 3 of The Sarah Jane Adventures starring Elisabeth Sladen features the 10th Doctor, David Tennant.
Series 3 is set to begin this Thursday, the 15th of October 2009. Episodes will be shown on Thursday and Friday of each week leading into mid-November.
The new K9 - The Series being produced in Australia by Park Entertainment is currently in post production. The 26 half hour series one of the show will be marketed at MIPCOM, an industry content trade show held from the 5th to 9th of October 2009 in Cannes.
See below for the latest promotional trailer featuring the metamorphosed K9 for this new series.
Originally created for the 1970s Doctor Who series by Bob Baker and Dave Martin, K9 has long been an iconic television character. Now a new adventure series featuring everyone's favourite robot dog in a brand new 21st Century design! K9 is a children's scifi/adventure series combining comedy, action and suspense X-Files meets Men in Black with a zany dash of Ghostbusters.
SARAH-JANE.tv, the website blog all about the latest news on The Sarah Jane Adventures have posted screenshots from the new trailer for Series 3 (trailer video is locked down to the UK only on the BBC site). The trailer features some other familiar faces.
The site also reports on an article from Digital Spy featuring shots of the Doctor on Sarah Jane Adventures. Here are a couple from the trailer below a couple featuring the Doctor from Digital Spy, see more here: SARAH-JANE.tv - And We Have A Trailer…! and Digital Spy: First Look: The Doctor in 'Sarah Jane'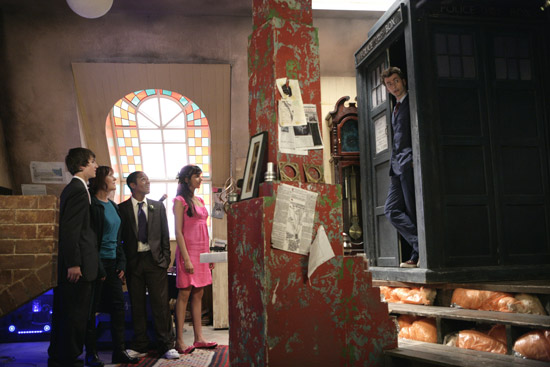 As just reported, the BBC has made a new trailer for Doctor Who: The Waters of Mars available for the UK only. For everyone else, there's YouTube (watch it while you can):
If for some reason it is removed from YouTube, here is the BBC America version of the promo trailer as well:
The BBC Doctor Who website has made a new tailer of Doctor Who: The Waters of Mars presented at San Diego Comic Con available on their website. Unfortunately, it is available for the UK only.
The Sun has posted the latest trailer for Torchwood: Children of Earth. Unlike the official Torchwood site, this preview is available to be seen outside the UK.