Now more than ever, we need your support! Become a Supporting Subscriber today.
Captain Britain
---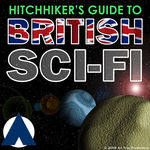 Hitchhiker's Guide to British Sci-Fi - Episode 4
Running Time: 1:00:48
Red Dwarf: Back to Earth reviewed, Life on Mars, Ashes to Ashes, Blake's 7 Audio Books, Torchwood, Paul Cornell's Captain Britain, and feedback from Miles Imel and Mark Goodacre.
Hosted by Louis Trapani, Ken Deep, and James Naughton.