Radio Times
---
The Radio Times has a full interview with Elisabeth Sladen's Daughter Sadie Miller.
Sadie now 26 years old, tells what it was like growing up knowing Jon Pertwee and Tom Baker, and what Family life was like.
She goes on to mension that she shall not be watching the 5th Series of Sarah Jane Adventures, Saying "I find it just a bit strange. I can't really watch it, too soon. But I know I'll enjoy watching them again at some stage. And if I have children it will mean a lot to watch it with them. Mum would have been a wonderful grandma and I feel sad that she won't get to experience that."
The full interview is linked below.
The cover for the Radio Times one of the UK's many TV listings magazines, originally BBC Centric has another of it's Doctor Who specials. Within there is an Interview with Matt Smith and Steven Moffat. Also there have been a bunch of new promo photo's released to the waiting world. One of the Impossible Astronaut and the other of the Silence. Pictures to follow with the pictures of the Silence and Radio Times cover coming last, to avoid spoilers for those who want to wait until April the 23rd.
The Radio Times has unveiled the new TARDIS interior with a series of images posted on their site.
Tell us what you think of the regenerated TARDIS interior. Since the series debuted in 1963, we have seen many versions of it. What's your take on this one?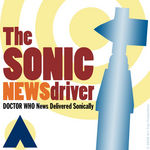 The Sonic Newsdriver 20091023
Selected Doctor Who related news delivered sonically.
For Earth-date: Friday, the 23rd of Oct. 2009
A Glimpse of the New TARDIS Interior, David Tennant Up for BAFTA Scotland Award, RTD Calls for Champion Children's TV, Sarah Jane Adventures Series 3 Underway, Tennant and Sladen Dumped From Radio Times Cover, Blue Peter Says Design Your Own TARDIS Console, BBC iPlayer Goes International at a Price, Catch Doctor Who: Podshock 165, and Get Your Sonic Gear, plus more!
Hosted by Louis Trapani
John Barrowman is very disappointed with having Torchwood usual 13 episode series cut down to only 5 episodes this year he told The Radio Times reports BBC News.
"The decision was made to go to BBC One and then we were cut - from 13 episodes down to five."