Gareth David-Lloyd
---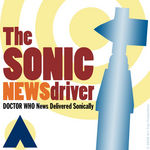 The Sonic Newsdriver 20091113
Selected Doctor Who related news delivered sonically.
For Earth-date: Friday, the 13th of Nov. 2009
Number 9… Number 9… Number 9…, Number 6… Number 6… Number 6…, Tom Baker on the New Series, I am the Fleshcreep Whether You Like it or Not, Remember - Get a Life, and more.
Hosted by Louis Trapani
Sorry I've been quiet for a while, but its been a very busy few weeks, with preparations for this week's highly successful first event for Who York - An Evening with Louise Jameson, work, and having a fantastic time this past weekend in Orlando for the inaugural Hurricane Who convention! They've announced year 2 of this convention, and its now a fixture in my calendar, and you would do well to do the same!
We are now less than 2 months away from a brand new convention on the East Coast - Hurricane Who, in Orlando, Florida! It takes place at the Ramada Convention Center from Friday October 30th through Sunday November 1st, with a launch party on Thursday October 29th at the Cricketer's Arms Pub. So why aren't you going? Are you on the fence? If so, then this is the blog for you! Here are 10 reasons that you really should be heading to Florida for HURRICANE WHO!!!!!
Number 1
Three Torchwood audio plays prequels to the upcoming mini-series Children of Earth are now available from BBC Radio 4 via the BBC iPlayer and download (downloads for the UK only). Each audio play is 45 minutes and will be available starting Wednesday, 1 July with the story Asylum, following it is Golden Age on Thursday, 2 July, and then finishing off the series is The Dead Line on Friday, 3 July.
The audio plays stars original television cast members, John Barrowman, Eve Myles, Gareth David-Lloyd, Kai Owen, and Tom Price.