Sarah Jane Adventures
---
SARAH-JANE.tv, the website blog all about the latest news on The Sarah Jane Adventures have posted screenshots from the new trailer for Series 3 (trailer video is locked down to the UK only on the BBC site). The trailer features some other familiar faces.
The site also reports on an article from Digital Spy featuring shots of the Doctor on Sarah Jane Adventures. Here are a couple from the trailer below a couple featuring the Doctor from Digital Spy, see more here: SARAH-JANE.tv - And We Have A Trailer…! and Digital Spy: First Look: The Doctor in 'Sarah Jane'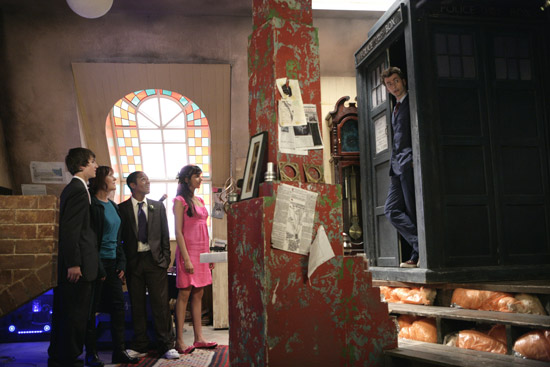 CBBC has confirmed that the animated Doctor Who adventure Dreamland starring David Tennant as the Doctor along with Georgia Moffet playing companion Cassie Rice and with David Warner playing the villainous leader of the Viperox will be premiering on the BBC One red button interactive service and the Doctor Who website first.
The latest issue of Doctor Who Monthly magazine has published the transmission dates for the 3rd series of The Sarah Jane Adventures according to a recent post on sarahjane.tv.
Breaking away from the usual one episode per week format, series 3 is to present two episodes each week. Adopting a Thursday and Friday schedule, the first episode debuts on Thursday, the 15th of October, followed by the second episode on Friday, the 16th of October. It continues on with an episode each Thursday and Friday until the close of the series on Friday, the 20th of November.
The 3rd series of The Sarah Jane Adventures is due to premiere on CBBC in October, not in September as we were previously led to believe. The Doctor Who spin-off series starring Elisabeth Sladen begins its 3rd series on CBBC in October (the exact date is still not known at this time though they have been unconfirmed reports on the net indicating the 15th of October).
The snap answer to this question is, of course, "There's no such thing as too much 'Doctor Who'". But is that really the case? Have we reached the point where keeping up with Doctor Who is such a full-time job, that we don't have time for our real full-time jobs or any other aspect of life?
Doctor Who: Podshock co-host, Louis Trapani has returned to the Sonic Newsdriver podcast (selected Doctor Who related news delivered sonically) after a 'hiatus' to work on this website (the 3.0 regeneration). Now that the bulk of the work of the new website facelift is behind us, there is now a new edition of the Sonic Newsdriver podcast. Right click the link below to download.
For details on this episode and links to subscribe via iTunes and podcast feed or to listen online see go to Sonic Newsdriver (3 July 2009) (ATP website)