Torchwood
---
Torchwood writer, John Fay and Doctor Who costume designer, Louise Page on stage for the live recording of Doctor Who: Podshock 187 at Gallifrey 21 in Los Angeles, CA.
Photo by Rachel McCauley @Rachel_McCauley
Torchwood writer, John Fay being interviewed during the live on stage recording of Doctor Who: Podshock 187 at Gallifrey 21 in Los Angeles, CA.
Photo by Eric Escamilla @Bullitt33
Alert to readers - I wrote a Torchwood section. I have sent the section to various places, and it is refusing to appear. I have not been able to debug the problem yet. So, for the second week in a row, the combined section goes out without Torchwood, in spite of my writing it. If I can get the Torchwood section to publish, it will be re-edited into this version. - 3/20/10.
Yesterday the collection that the BBC had sent to Auction at Bonhams went under the Hammer.
The Torchwood SUV went for 18,000 pound Sterling and Jackson Lakes Costume Brought in 3,120 Pounds.
A full list of what each individual piece Brought can be Found at the end of this Piece though a Link to the Bonhams Website.
It should be also noted that the two Planet of the Dead red Busses were removed before the Auction began, which makes me wonder what the BBC has planed for those.
http://www.bonhams.com/cgi-bin/public.sh/pubweb/publicSite.r?sContinent=EUR&screen=catalogue&iSaleNo=18192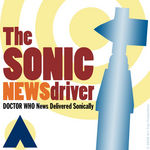 The Sonic Newsdriver 20100223
Selected Doctor Who related news delivered sonically.
For Earth-date: Tuesday, the 23rd of Feb. 2010
New publicity image and new promo trailer for Doctor Who series 31 released, Torchwood the Digital Comic, James Corden to Guest Star?, Neil Gaiman Confirms, Going Once - Going Twice, Gallifrey 21, and more.
Hosted by Louis Trapani
Um... ahh... not sure this is for me, but I wanted to share:
http://www.kingsheadtheatre.org/home/what-s-on/torchwood.php