Torchwood
---
Torchwood: Children of Earth will be transmitted on BBC1 (in the UK) starting on Monday, 6th of July at 9pm. The mini-series will continue each consecutive night afterwards (i.e. Tuesday, 7th of July, and so on).
Source: Radio Times (Torchwood listing)
The latest trailer for Torchwood: Children of Earth shown on Australia's UKTV has Gwen Cooper references the Doctor.
On a related note, word now is that the BBC in the UK will be scheduling the transmission of the new five-part mini series, Torchwood: Children of Earth now between the 4th - 10th of July. If this is the case, it goes against the previous information of the BBC and BBC America showing them during the same week.
BBC America has announced that David Tennant (the 10th Doctor) and Russell T Davies (Executive Producer and Lead Writer) will be joining Julie Gardner (Executive Producer) and Euros Lyn (Director) at this year's San Diego Comic-Con.
Together they all will be on a Doctor Who panel on Sunday, the 26th of July 2009 from 10 AM to 11 AM PDT at this annual event.
Meanwhile, John Barrowman (Captain Jack) will be joining Russell T Davies, Julie Gardner, and Euros Lyn on a Torchwood panel on Sunday, the 26th of July 2009 from 2:15 PM to 3:45 PM PDT.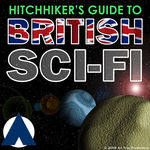 Hitchhiker's Guide to British Sci-Fi - Episode 4
Running Time: 1:00:48
Red Dwarf: Back to Earth reviewed, Life on Mars, Ashes to Ashes, Blake's 7 Audio Books, Torchwood, Paul Cornell's Captain Britain, and feedback from Miles Imel and Mark Goodacre.
Hosted by Louis Trapani, Ken Deep, and James Naughton.