Art Trap Productions
---
Many have been asking about Doctor Who: Podshock and our other ATP shows in the wake of the devastation left by Superstorm Sandy. Recovery continues though our shows should be resuming shortly. I posted this latest blog entry about it. See the link below.
Getting Back on Feet After Sandy Devastation -
Sandy Aftermath Day 338: It's been "a year from hell" recovering and restoring from the mass devastation which Superstorm Sandy caused. There's still a great deal more to do, though it's getting closer to where a sense of "normality" will prevail while ongoing recovery work continues. This means our shows will be resuming shortly including Doctor Who: Podshock and perhaps a new one or two as well.
Thanks for all the concern expressed by all of our listeners... We will return once we are back up and running after the major set back caused by Hurricane Sandy...
On October 29, 2012 we were hit hard by Hurricane Sandy. In addition to not having power, heat, phones, net, etc. for almost two weeks, we were flooded with sewage water. Three and half weeks later, we are still expelling destroyed waterlogged stuff and trapped water from the premises.
What a week it has been. Unless perhaps you have been off-world or visiting another time era all this past week, you know we lost Apple co-founder and former CEO, and great tech innovator and visionary, Steve Jobs.
It is a good chance that there wouldn't be a Doctor Who: Podshock show if it were not for Apple under the leadership of Steve Jobs making the iPod so ubiquitous across the world. It certainly wouldn't had been called "Podshock" at least ("iPod" begat "podcast" begat "Podshock"). Now in our seventh year, it has been produced from the beginning using Apple products as it is today.

"Good news everyone…" (I say in a Professor Fransworth voice from Futurama), The Sonic Newsdriver podcast is back and it's about time (and space of course). The latest episode is now available a week prior to the launch of the 4th series of The Sarah Jane Adventures, and as such, there's plenty of coverage about it in this episode, along with of course news about Doctor Who itself and more. It is a great way to stay on top of selected Doctor Who related news while on the go!
Sonic Newsdriver (03 October 2010) -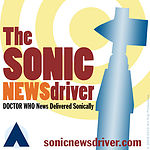 The Sonic Newsdriver 20101003
Selected Doctor Who related news delivered sonically.
For Earth-date: Sunday, the 3rd of Oct. 2010
Sarah Jane Adventures Return, Matt Smith is the Piano Man, Doctor Who Live news, Music News, Doctor Who and the Florence and the Machine, NYCC is Coming to Town, Your iPhone Just Got More Sonic, Party Like It's 1996, and more.
Doctor Who: Podshock co-host, Louis Trapani has returned to the Sonic Newsdriver podcast (selected Doctor Who related news delivered sonically) after a 'hiatus' to work on this website (the 3.0 regeneration). Now that the bulk of the work of the new website facelift is behind us, there is now a new edition of the Sonic Newsdriver podcast. Right click the link below to download.
For details on this episode and links to subscribe via iTunes and podcast feed or to listen online see go to Sonic Newsdriver (3 July 2009) (ATP website)
Louis Trapani founded the Gallifreyan Embassy (GE) in June of 1985 to serve the growing fandom centered around Doctor Who and other British science fiction during the mid-80s in the US. Originally a local organization with local meetings, today it is international, serving the global community.
In 1989, Louis graduated with a Bachelor of Fine Arts (BFA) degree from the School of Visual Arts in New York where he majored in the media arts department.