Dreamland
---
CBBC has confirmed that the animated Doctor Who adventure Dreamland starring David Tennant as the Doctor along with Georgia Moffet playing companion Cassie Rice and with David Warner playing the villainous leader of the Viperox will be premiering on the BBC One red button interactive service and the Doctor Who website first.
"I love humans. Always seeing patterns in things that aren't there."
Doctor Who: Podshock - Episode 162
Running Time: 1:17:09
Part 2 of our in-depth interview with Gary Russell, plus Jules Burt (Rise of the Cybermen & Age of Steel) returns to Doctor Who: Podshock with his newlywed wife, Wendy.
Hosted by Louis Trapani and Ken Deep.
Cover artwork for Doctor Who: Podshock featuring colour still from the animated Doctor Who: Dreamland directed by Gary Russell.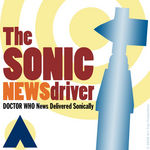 The Sonic Newsdriver 20090902
Selected Doctor Who related news delivered sonically.
For Earth-date: Wednesday, the 2nd of Sept. 2009
In this episode: Tabloid Tennant, Last of the TARDISes, Sarah Jane Adventures Series 2 on DVD, Dreamland, John Barrowman Made It Through Again, Catch Doctor Who: Podshock 160 and Get Your Sonic Gear, plus more!
Hosted by Louis Trapani
As reported yesterday, the BBC has released the first image from the upcoming animated story, Doctor Who: Dreamland which is scheduled to be broadcast later this year.
Earlier this week we had the pleasure of interviewing the director, Gary Russell for Doctor Who: Podshock (stay tuned for future episodes featuring his in-depth interview) who spoke to us about this second outing of an animated 10th Doctor adventure. Gary had also directed The Infinite Quest which also starred David Tennant as the 10th Doctor along side with Freema Agyeman playing Martha Jones.
The first peek at the Doctor as he appears in the animated Dreamland six-part animated adventure to be broadcast this Autumn on the BBC Red Button and Doctor Who website. It stars David Tennant voicing the 10th Doctor, with Georgia Moffat, and David Warner.
(Thanks @TiggsPanther )