Now more than ever, we need your support! Become a Supporting Subscriber today.
Kai Owen
---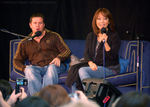 Kai Owen (Rhys Williams on Torchwood) will head up an emergency Wales charity volunteer drive for Save the Children according to a report in Walesonline.co.uk. The charity is looking for emergency workers to raise money when disaster hits such as earthquakes, typhoons, disease outbreaks, etc.
"When an emergency strikes, Save the Children leap into action so they can reach children and families caught up in a disaster as quickly as possible," Kai stated.