artist
---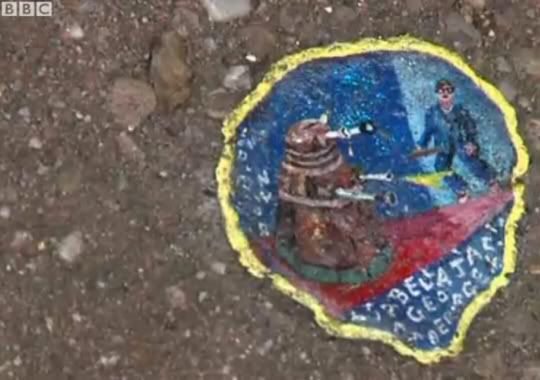 Ben Wilson London based Chewing gum artist Dr Who painting
http://www.bbc.co.uk/news/entertainment-arts-11677462
Cheers, daveac
Cheers to Doctor Who: Podshock Correspondent Tara Wheeler @TARDIS_Tara on her new transdimensional tattoo. We all watched last night via Twitter as she, her DH (David Wheeler), and Emily @emilyooo documented Tara's adventure. Tara being Tara of course brought colour samples of the scarf for Jon Reed, the tattooist to use... Yes, I said scarf. As you can see, a scarf is also included in the TARDIS (police box) image.
No, I already asked if dematerializing ink was used on it. She said that is on the other shoulder.
Was it painful?
IDW Publishing's artist Al Davison who had paired with Tony Lee in publishing Doctor Who comic books will have his artwork on display at The Lock Gallery.
'The TARDIS Has Landed' exhibition will be taking place from the 22nd of September to the 3rd of October at the Lock Gallery, Workshop 10, St. Nicholas Street, Canal Basin, Conventry in the UK.
The Doctor Who comic book series launched in the US in July featuring the 10th Doctor.
The gallery schedule is as follows: Tues and Weds 9:30am to 3pm, Thurs - Sat 9:30am to 4pm. Sundays and Mondays it is closed.