location
---
One can glean a little of what the new TARDIS interior will look like through these shots taken on location while shooting at the Llanwonno Church today (21 October 2009) for upcoming Doctor Who story starring Matt Smith. The photos taken by "Scootyboy" are available on his Photobucket page here (slight spoiler warnings).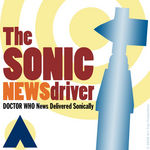 The Sonic Newsdriver 20091006
Selected Doctor Who related news delivered sonically.
For Earth-date: Tuesday, the 6th of Oct. 2009
Special quick episode announcing the new Doctor Who logo and location photos, Catch Doctor Who: Podshock 163 and soon 164, and Get Your Sonic Gear, plus more!
Hosted by Louis Trapani
Photographs taken on location shooting Doctor Who posted to Alun Vega's Flickr account reveals a newly regenerated 11th Doctor played by Matt Smith. Still wearing the torn and tattered outfit of the 10th Doctor (David Tennant), he is seen with Karen Gilan (Amy Pond) shooting a scene by an ice cream truck.