Blue Peter
---
Finally after a long wait the winner of the Blue Peter competition to design a TARDIS console gets her prize.
Heres's Matt Smith on Today's Blue Peter. A BBC Childrens Show.
David Tennant is awarded on Blue Peter. See the segment of Blue Peter from the 15th of December with David Tennant where they talk about his new film project and his years on Doctor Who.
Thanks to @mcfangirl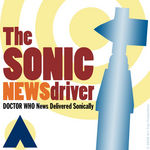 The Sonic Newsdriver 20091023
Selected Doctor Who related news delivered sonically.
For Earth-date: Friday, the 23rd of Oct. 2009
A Glimpse of the New TARDIS Interior, David Tennant Up for BAFTA Scotland Award, RTD Calls for Champion Children's TV, Sarah Jane Adventures Series 3 Underway, Tennant and Sladen Dumped From Radio Times Cover, Blue Peter Says Design Your Own TARDIS Console, BBC iPlayer Goes International at a Price, Catch Doctor Who: Podshock 165, and Get Your Sonic Gear, plus more!
Hosted by Louis Trapani