K9 - The Series
---
(The following has been re-posted from my blog at arttrap.com)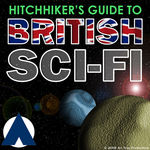 After a long hiatus, Hitchhiker's Guide to British Sci-Fi has returned. Dave Cooper @daveac joins me, Louis Trapani @LouisTrapani as co-host in this episode in which we discuss the new Torchwood series coming to Starz in the US, series 4 of The Sarah Jane Adventures, we invite our younger listeners for their reviews of K9 - The Series, plus we discuss Sherlock, The Deep, Ashes to Ashes, Merlin, and more. It also features part of an interview with Brian Croucher (Travis (2) on Blake's 7) that can be heard in full in Doctor Who: Podshock 219.
For more details, see Episode 8 of Hitchhiker's Guide to British Sci-Fi. If you are subscribing to the podcast, it is already in the feeds, or alternatively, you can download it directly here: Hitchhiker's Guide to British Sci-Fi - Ep. 8 (MP3, 39 MB)
Disney XD UK released this sneak peek preview of the new K9 - The Series on YouTube on the 26th of October. According to the Disney XD UK YouTube posting, the full episode airs on Disney XD (UK) this Saturday at 6pm (Sky Channel 607, Virgin 707).