Now more than ever, we need your support! Become a Supporting Subscriber today.
Michael Moorcock
---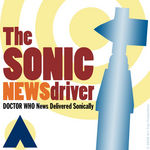 The Sonic Newsdriver 20091117
Selected Doctor Who related news delivered sonically.
For Earth-date: Tuesday, the 17th of Nov. 2009
Waters of Mars Floats to 9.1 Million, Moorcock for Doctor Who, No Movie For You, Waters of Mars Accessories, Live Waters Review, Bigger Than Life, and more.
Hosted by Louis Trapani