Happiness Patrol
---
Keeping with the theme of Gallifrey One's Catch 22: Islands of Mystery, our Post Gallifrey One Party which was our Doctor Who: Podshock and Gallifreyan Embassy seasonal meet up and party on Second Life taking place the following Sunday (27 February 2011) after Gallifrey One had a tiki feel to it. Victor Mornington @vic1st and his fellow owners of the land of Katrina (The Doctor Who Experience, which has recently changed its name the Doctor Who: Exposition) out did themselves once again flooding the area, making it a huge pool of water complete with inflatables to cruise on for the stage area of our party. The stage and dance floor were on a giant deck.
Traditionally our meet ups start with TARDIS tours across various Doctor Who themed areas of Second Life led by Victor. This time we did things a bit different. Instead we had a Podshock TARIDS Mod Exposition taking place in that time period. I had the pleasure and honour of being one of the judges for it along with our own DWP Correspondent Ian Bisset @The6thDoctor and the owner of Hands of Omega (one of the leading TARDIS simulator providers in Second Life), Sen Pixie. Together we explored various TARDIS console mods along with the rest of their interior and chose the best within three categories.
If you enjoyed our discussion on the ins and outs of building your own TARDIS (Police Box) in Doctor Who: Podshock 230 with special guests, the crew from The Happiness Patrol podcast, check out the latest episode of their podcast (The Happiness Patrol 47) in which I was invited on to talk about another Doctor Who icon, scarves!
Read my recent blog entry on ATP about it:
Come On, Get Happy! I'm on The Happiness Patrol! -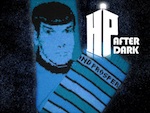 For what feels like for the longest time, we have been trying to get Lewis Bailey to join us on an episode Doctor Who: Podshock. Lewis does a podcast called The Happiness Patrol @TheHPatrol along with Dale Who @FishCustard2010 , Tara Wheeler @TARDIS_Tara (who you may also know as a Corespondent for Doctor Who: Podshock), and Lela Sandstrom @LelaSandstrom, due to scheduling reasons it never worked out. He has been also trying to get me on The Happiness Patrol as well for a while and for the same reason, it hadn't worked. Although we had Lewis on an episode in a recorded segment at the Doctor Who: Podshock 5th Anniversary Event we held last August as well on an episode from Gallifrey 21 last February in Los Angeles at our Meet & Greet Event there, this is the first time we have him on our show in a studio setting for Doctor Who: Podshock - Episode 230 along with Dale, Tara, and Lela. Not only is The Happiness Patrol in the latest episode of DWP, but I am in the latest episode of The Happiness Patrol as well!
"Oh, I see you've been doing the TARDIS up a bit. Hmm, I don't like it."
Doctor Who: Podshock - Episode 230
Running Time: 1:44:00
Part 2 of our Interview with Paul Scoones @paul_scoones (responsible for Doctor Who DVD info text) by Ian Bisset @The6thDoctor , the Inside-Out of Building a TARDIS (Police Box) with Lewis Bailey, Dale Who @FishCustard2010 , Tara Wheeler @TARDIS_Tara , and Lela Sandstrom @LelaSandstrom of The Happiness Patrol @TheHPatrol podcast, Doctor Who news, and more.
Hosted by Louis Trapani ( @LouisTrapani ).
"Our lives are different to anybody else's. That's the exciting thing, that nobody in the universe can do what we're doing."
Doctor Who: Podshock - Episode 221
Running Time: 1:25:46
We interview Deborah Watling (Victoria Waterfield) and director Graeme Harper, plus 2011 will bring 2 series of Doctor Who instead of 1 but no Daleks, Sylvester McCoy in The Hobbit, Live coverage from Doctor Who: Podshock's 5th anniversary celebration with Lewis Bailey (The Happiness Patrol Podcast) and Terry Lighfoot (The DirtyWhoers podcast), Gallifrey update and convention reports, Tom Baker returns again as the 4th Doctor, and more.
Hosted by Louis Trapani ( @LouisTrapani ), Ken Deep ( @kendeep ), and James Naughton ( @JamesNaughton ).
This past Saturday, the 21st of August 2010 was not only our seasonal meet up on Second Life, it also marked the 5th anniversary of the Doctor Who podcast, Doctor Who: Podshock. (We used our last meet up last May to mark the 25th anniversary of the Gallifreyan Embassy).
People from all corners of the world came together to have fun and to meet Doctor Who: Podshock hosts, correspondents, supporters, and other Doctor Who fans. As usual, Victor led the much anticipated TARDIS tours, a staple of our meet ups on Second Life in which he takes a TARDIS load of people to other Doctor Who themed areas of Second Life. This time, he even allowed me to pilot a Jon Pertwee style TARDIS for one trip. It was very exciting indeed.
The TARDIS Tours took us to Who Island which had a replica of Stonehenge with 'underhenge' which we discovered the Pandorica (and it opened)! We also got to see the console room seen in this year's 'The Lodger' episode and as always the tour concluded in the Doctor Who Museum. The virtual museum chronicles all of Doctor Who throughout its long history.
Looking for a deeper fix of Ken Deep? Co-host of Doctor Who: Podshock and one of the founding members of the Gallifreyan Embassy can be found on the current episodes of two other podcasts right now.
The Happiness Patrol is a new show hosted by Lewis Bailey. In episode two, he has a frank (who is Frank?) and fun conversation with Ken. It covers Ken's first time he saw Tom Baker as the Doctor on PBS to podcasting and even hockey.