Now more than ever, we need your support! Become a Supporting Subscriber today.
Caitlin Blackwood
---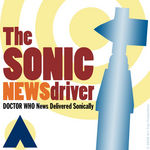 The Sonic Newsdriver 20091126
Selected Doctor Who related news delivered sonically.
For Earth-date: Thursday, the 26th of Nov. 2009
A special Thanksgiving edition
Happy Birthday to Who, Dreamland, Karen Gillan's 9 Year Old Cousin to Follow Footsteps, The Sarah Jane Adventures Strong Numbers, The End of Time is Coming, Jeffrey Tambor Joins David Tennant, David Tennant Has Nothing to Say, David Tennant Does Have Something to Say for Christmas, and more.
According to an article in scotsman.com, Caitlin Blackwood, a Scottish schoolgirl from Highland beat out hundreds of other hopefuls for a role in Doctor Who.
Without any formal acting experience, Caitlin will be joining her cousin Karen Gillan (Amy Pond) in the new series shooting in Cardiff.
Her role is not being revealed by the BBC to avoid spoilers.
"We are so proud of the way she has taken to working on a major film set in her stride," stated St. Joseph's head-teacher, Christine Cameron.