Brigadier
---
Doctor Who: Podshock - Episode 258
Running Time: 1:57:55
We review Doctor Who: The Wedding of River Song live over the net with live listener feedback.
Hosted by Louis Trapani ( @LouisTrapani ), Dave Cooper ( @daveac ), and Ken Deep ( @kendeep )
This video has been in the making for some time now as I have seen various earlier incomplete versions of it over the last few years now I believe. Originally created as a mock trailer by OtaKing77077 (on YouTube) has expanded into a mini-episode. Because it was originally meant only as mock trailer, it lacks some narrative. It is done in the style of 1980's anime featuring 1970's Doctor Who mostly (it is a 3rd Doctor Jon Pertwee story). It features many original voice clips of various characters from the series as well as some original vocal work. Almost every iconic aspect of 1970s and some 1980s Doctor Who is depicted here except K9 perhaps.
For some reason the video had been pulled from YouTube, someone else had posted it again in the above.
It's been more than a couple weeks now since word first traveled across Twitter of the sad news that we lost Nicholas Courtney. For many we us, we were in disbelief and shock. If you heard the latest episodes of Doctor Who: Podshock or The Sonic Newsdriver, you will know that I was literally on my flight back from attending Gallifrey One 2011 in Los Angeles when word first came to me. After such a 'Doctor Who high' that was Gallifrey One, to have this news come on its heels... well, it's never a good time for news like this, but we can be grateful it was after, not during the convention. I want to thank Correspondent Graeme Sheridan @The2ndDoctor for posting the news to our site (see: R.I.P. The Brigadier, Nicholas Courtney Dies at Age 81). I had meant to follow it up, posting some of my thoughts, but I found it difficult to do. I was even dreading having to record the next episode of The Sonic Newsdriver only because I would have to report it. Though now that has come to pass.
"Here, have a ribbon."
Doctor Who: Podshock - Episode 239
Running Time: 1:21:25
Coverage of the Doctor Who: Podshock Meet & Greet at the Los Angeles Airport Marriott Hotel on the eve of Gallifrey One's Catch 22: Islands of Mystery. Plus the passing of Nicholas Courtney and the 2011 series start date.
Hosted by Louis Trapani ( @LouisTrapani ) with Ken Deep ( @kendeep ), Billy Davis, Mike Doran, and Tara Wheeler ( @TARDIS_Tara ).
We have a bunch of new Doctor Who: Podshock episodes on the way which will be coming to you soon, including our live show recorded at Gallifrey One 2011. In the meanwhile, catch up on Doctor Who related news delivered sonically with the latest episode of The Sonic Newsdriver!
Sonic Newsdriver (07 March 2011) - Doctor Who News -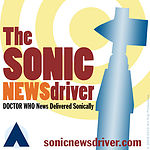 The Sonic Newsdriver 20110307
Selected Doctor Who related news delivered sonically.
For Earth-date: Monday, the 7th of Mar. 2011
In this episode: Five Rounds Rapid in Memory of Nicholas Courtney, James Corden is Back, Who are you gonna call?, Massive Man - Massive, iPlayer for less than $10 a month, and more!
It is with great sadness and a very heavy heart, that I report the passing of Nicholas Courtney, best known for his role as the Brigadier.
He was first seen in Doctor Who as Bret Vyon a security agent in the 12 part "The Daleks Master Plan" Later taking up the Role of Colonel Lethbridge Stewart in "The Web of Fear" and then comming back one year later as Brigadier Lethbridge Stewart in the Invasion.
A belated Happy Birthday to Nicholas Courtney who turned 80 on the 16th of December. Nicholas Courtney has been connected to the Doctor Who series going back to when William Hartnell was the Doctor. He is best known for his role as Brigadier Sir Alistair Lethbridge-Stewart. Aside from appearing in two episodes of The Sarah Jane Adventures last year (Enemy of the Bane parts 1 and 2), he has yet to appear in the series since its return in 2005, although there have been some references.
A special birthday wish and thank you goes out to Nicholas Courtney for the years of enjoyment he has brought to our screens throughout time and space.