Neil Gaiman
---
Doctor Who: Podshock - Episode 295
Running Time: 1:56:29
We review Nightmare in Silver, plus Doctor Who news, and more. Hosted by Louis Trapani and Dave Cooper. "I am NOT human."
Doctor Who: Podshock - Episode 276
Running Time: 2:02:42
A classic interview with Mary Tamm (Romana 1), 'The Mythological Dimensions of Neil Gaiman' Editors Anthony S. Burdge and Jessica Burke, plus other Doctor Who related news, feedback (Blue Box Bill, John M, Ruth Kubierschky, Stephen), and more. Hosted by Louis Trapani, Dave Cooper, Ian Bisset, and Taras Hnatyshyn, with Chuck Rabb.
Doctor Who: Podshock - Episode 260
Running Time: 1:40:14
In this episode, we review Doctor Who: The Rescue, Doctor Who news, Frazer Hines interviewed (part 1), and listener feedback with tributes to Elisabeth Sladen and comments from the 2011 series (from Justin, Scott, Brent Johnson, Greg, and more).
Hosted by Louis Trapani ( @LouisTrapani ), Ken Deep ( @kendeep ), James Naughton ( @JamesNaughton ), and Graeme Sheridan ( @The2ndDoctor )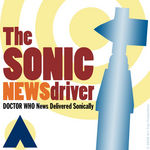 The Sonic Newsdriver 20100223
Selected Doctor Who related news delivered sonically.
For Earth-date: Tuesday, the 23rd of Feb. 2010
New publicity image and new promo trailer for Doctor Who series 31 released, Torchwood the Digital Comic, James Corden to Guest Star?, Neil Gaiman Confirms, Going Once - Going Twice, Gallifrey 21, and more.
Hosted by Louis Trapani
As we reported in a @Podshock tweet over the last weekend, writer Neil Gaiman has finally confirmed his involvement in writing an upcoming story for Doctor Who. In a message sent to the SFX Weekender convention this past weekend accepting being awarded 'Best Comic' at the SFX Awards, he acknowledge that he is writing an episode for next year's series of Doctor Who (Series 32, Matt Smith's series 2).
There has been much talk and speculation about him writing for the series, but up until now, it hadn't been confirmed.