Now more than ever, we need your support! Become a Supporting Subscriber today.
Easter
---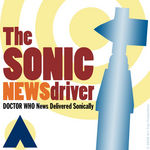 The Sonic Newsdriver 20100324
Selected Doctor Who related news delivered sonically.
For Earth-date: Wednesday, the 24th of Mar. 2010
Two Promo Trailers, A Date with the Doctor, Rumoured Christmas Special and Series 32, What's Up Doc?, Down with the Government, Easter Plans, I-CON 29, and more.
Hosted by Louis Trapani