iPlayer
---
The latest episode of The Sonic Newsdriver has been released. Be warned, there is some singing in it. Sorry. It is sonic after all. As always, it contains selected Doctor Who related news for you to digest sonically. Short and sweet, just like a Jelly Baby -- only sonic.
Enjoy.
Sonic Newsdriver (10 December 2010) -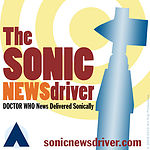 The Sonic Newsdriver 20101210
Selected Doctor Who related news delivered sonically.
For Earth-date: Friday, the 10th of Dec. 2010
Happy Birthday Doctor Who-sein, Doctor Who Get Smart and Lancaster, BBC iPlayer? There's an App for That!, If Adventure Has Name..., We Have a Date for Christmas... Again, The Mazes Are Landing Soon, It's All About Triumph of Intellect and Romance over Brute Force and Cynicism, Doctor Who in 3D?, and more!
At the time of this posting, there is 5 days left to listen to this 57 minute BBC Wales Radio special, Doctor Who - A Celebration on the BBC iPlayer.
Description from the BBC Doctor Who site:
Matt Smith shares his thoughts on the character of the Eleventh Doctor and Executive Producer Beth Willis reveals why she was a fan of Doctor Who even before joining the team. Lead Writer and Executive Producer Steven Moffat recalls casting the Time Lord and why he had to give Matt Smith the keys to the TARDIS! Previous cast and crew members such as writer Terrance Dicks are featured and there's a wealth of archive material from recent and not-so-recent adventures.