Revenge of the Cybermen
---
These Cybermen figures are out for revenge in an exclusive set available now to pre-order from Forbidden Planet. This set contains the Cyber Leader and two Mark V Cybermen along with a Cybermat for good measure is expected on the 17th of November 2010. Relive the classic 4th Doctor story, The Revenge of the Cybermen otherwise they may turn you into a cyberbomb.
Pre-order price is currently £29.99 plus shipping. For more information or to place an order, click here.
As I previously Mensioned the DVD Trailers for Revenge of the Cybermen/ Silver Nemesis and the Extra's for The Dominators had gone before the British Film Board of Classificasion.
The Release dates have now been given and the delayed release date for Time and the Rani, which had previously been Scheduled for 1st March this year.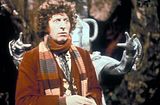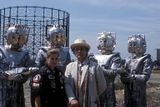 Revenge of the Cybermen and Silver Nemesis Have been cleared by the British Board of Film Classification as a Double DVD Trailer. As to when this box set will be realsed is anybody's Guess, and with Two of the most unpopular Cybermen stories of all time, one wonders what sales they will get. But that said it will be in my Pre-order list as soon as it's available, I'm somewhat of a Cyber-collector. "EXCELENT!"