Daleks
---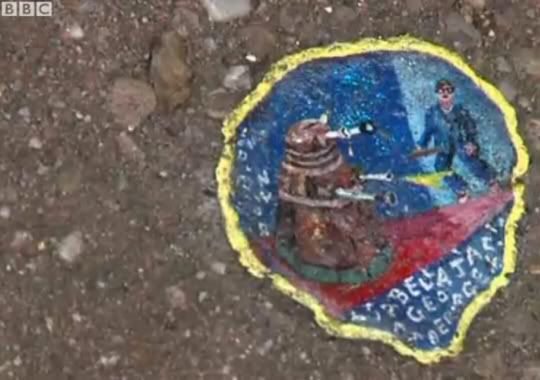 Ben Wilson London based Chewing gum artist Dr Who painting
http://www.bbc.co.uk/news/entertainment-arts-11677462
Cheers, daveac
Further to the Restoration Team's little tease I put up on Thursday/Friday last week, the reveal.
It's a totally revamped version of Day of The Daleks. OK as far as I can remember it's only on VHS so far, but the revamp comes not only with the special effects of modern Dalek zapping, which can be seen in the trailer. But Mr. Dalek AKA Nick Briggs re-does the voices for this release. There also comes the news that at least on the European side of the Atlantic that Day of the Daleks will be part of the Revisitations Boxed Set Nr. 2.
The other DVD's should be Carnival of monsters and Resurrection of the Daleks, which is again another one I already have in my collection. With Carnival it's not so bad I looked at the lack of extra's and picked it up on iTunes.
A release date has not yet been set. The trailer from Classic DW from Twitter (the official Restoration Team Twitter handle) and the DWO site can be seen below.
Late last night/early this morning the Doctor Who restoration team dropped a teaser on Twitter, for an announcement on Saturday. By the looks of it there are going to be more "Special Editions" and by the style of writing another Dalek one at that. see the trailer below and decide for yourself.
"Our lives are different to anybody else's. That's the exciting thing, that nobody in the universe can do what we're doing."
Doctor Who: Podshock - Episode 221
Running Time: 1:25:46
We interview Deborah Watling (Victoria Waterfield) and director Graeme Harper, plus 2011 will bring 2 series of Doctor Who instead of 1 but no Daleks, Sylvester McCoy in The Hobbit, Live coverage from Doctor Who: Podshock's 5th anniversary celebration with Lewis Bailey (The Happiness Patrol Podcast) and Terry Lighfoot (The DirtyWhoers podcast), Gallifrey update and convention reports, Tom Baker returns again as the 4th Doctor, and more.
Hosted by Louis Trapani ( @LouisTrapani ), Ken Deep ( @kendeep ), and James Naughton ( @JamesNaughton ).
Relive the adventures of the Doctor and Ace when they arrived in London in 1963 to discover two rival Dalek factions in Remembrance of the Daleks with this new exclusive set from Forbidden Planet.
A four figure set of Daleks from the story which was part of Doctor Who's 25th anniversary celebration series (hence why it was set in 1963) include a white Imperial Dalek, a renegade Dalek, a Supreme Dalek, and a special weapons Dalek. They become available on 8 October 2010 and unfortunately are only available in the UK and Eire according to the Forbidden Planet website.
The pre-order price is £34.99. For more information or to order, click here.
"Why doesn't anybody ever want to meet Ringo?"
Doctor Who: Podshock - Episode 214
Running Time: 1:56:02
Terry Molloy (Davros) interviewed (by Nick Joy), Doctor Who Adventure Games reviewed, Changes in the new series, feedback, and more!
Hosted by Louis Trapani, Ken Deep, and James Naughton.
The computer game, which was introduced as "The Doctor Who Adventures" earlier this year has now been released. There are a couple of sore points, 1: IT IS AS WE EXPECTED GEO-LOCKED, that means if you are not resident in the UK you can't access it. 2: WINDOWS VERSION ONLY, the Mac version is due on the 15th of July. and most Importantly 3: IT WILL BE AVAILABLE TO THE REST OF THE WORLD, but your going to have to lay out your hard earned cash for it. I suspected this part but as the BBC now has to show responsibilty for it's earnings since the change of government in the UK this was no surprise to me.