#DoctorWho
---
BBC America has released another Trailer but this is at least very short.
I'm afraid the Quality isn't that good but you'll get the Idea. When A better quality version of the Trailer becomes available I'll post it here, in it's place.
It's offical not only does Series 6 start on the 23rd of April (Easter Saturday) in the UK, but also on BBC America in the US a few hours later. That's right hours not days or weeks hours.
It just waits to bee seen how the rest of the World gets it's Doctor Who S6 fix, but this also means that the Episodes should be on the US iTunes the very next day, for those of you who don't have BBC America.
"Spoilers" if you want to have a look at the promo video's then follow th link Below.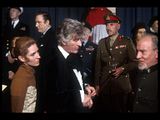 Through an Interview with DWM The releases for 2011 came to the fore. And now 2entertain have listed them. The list is subject to change but should be as is.
Planet of the Spiders
Mannequin Mania which comprises of: Spearhead from Space and terror of the Autons.
Frontios
Earthstory which comprises of: The Awakening and The Gunfighters.
As painful as it is to mention the next one,....... Paradise Towers.
Revisitations 3 which comprises of: Tomb of the Cybermen, The Three Doctors and The Robots of Death.
The Solar System, which comprises of: Ambassadors of Death and The Sunmakers
And finally on the list, the much awaited Day of the Daleks-Special Edition.
On Monday night on BBC Midlands during a regional Programme called "Inside Out" there was a Nine minute piece on Delia Derbyshires life, and how she came to do what she did. Earlier this year on Radio 4 there was a longer hour long Programme called "Mistress of Sound" That I suppose most people unfortunately missed. Which was more in depth about her music and also her part in Electronic Pioneers "White Noise"
Despite it's length this report was comprehensive enough to give you the basics and a never before heard sound clip. Delia describing what influenced her the most. But enough from me enjoy the report it's self below.