#DoctorWho
---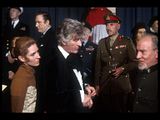 Through an Interview with DWM The releases for 2011 came to the fore. And now 2entertain have listed them. The list is subject to change but should be as is.
Planet of the Spiders
Mannequin Mania which comprises of: Spearhead from Space and terror of the Autons.
Frontios
Earthstory which comprises of: The Awakening and The Gunfighters.
As painful as it is to mention the next one,....... Paradise Towers.
Revisitations 3 which comprises of: Tomb of the Cybermen, The Three Doctors and The Robots of Death.
The Solar System, which comprises of: Ambassadors of Death and The Sunmakers
And finally on the list, the much awaited Day of the Daleks-Special Edition.
On Monday night on BBC Midlands during a regional Programme called "Inside Out" there was a Nine minute piece on Delia Derbyshires life, and how she came to do what she did. Earlier this year on Radio 4 there was a longer hour long Programme called "Mistress of Sound" That I suppose most people unfortunately missed. Which was more in depth about her music and also her part in Electronic Pioneers "White Noise"
Despite it's length this report was comprehensive enough to give you the basics and a never before heard sound clip. Delia describing what influenced her the most. But enough from me enjoy the report it's self below.
So after me thinking I've ad nothing to blog for a long time comes this.
The Ark a William Hartnell story with Stephen and Dodo as companions is to be released within the next couple of months, as it's just passed through BBFC classification. As to what extra's will be on the release is still unknown at the moment.
The Story is set 10 Million years into out future where the earth has been destroyed by the Sun going nova. Actual Science proves of course that a sun such as our's can indeed die, and in doing so would destroy the Earth, but it does not have enough energy to go Super Nova, oh well 5 out of 10 for factually accuracy.