iPad
---
Now in the iOS App Store is the Doctor Who: Sonic Screwdriver (Official) (for iOS 5 or later). Is if it wasn't already overused on the television series, now it's available on our iPhone. It includes four 3D models of sonic screwdrivers and thankfully not just limited the last seven years. It gives you a choice of two kinds of backgrounds for your sonic screwdriver. One is "transparent" (thanks to the rear camera) which emulates holding the actual sonic screwdriver as it will pick up whatever background you are pointing your iOS device towards (pretty nifty, huh?). Of course it has various sonic screwdriver sounds (it wouldn't be "sonic" otherwise). You can even shake the 11th Doctor's model to extend it. Plus it's a flashlight app as well (for those with a camera flash and who haven't updated to iOS 7 which now has it built-in the OS, may find this feature handy).
What a week it has been. Unless perhaps you have been off-world or visiting another time era all this past week, you know we lost Apple co-founder and former CEO, and great tech innovator and visionary, Steve Jobs.
It is a good chance that there wouldn't be a Doctor Who: Podshock show if it were not for Apple under the leadership of Steve Jobs making the iPod so ubiquitous across the world. It certainly wouldn't had been called "Podshock" at least ("iPod" begat "podcast" begat "Podshock"). Now in our seventh year, it has been produced from the beginning using Apple products as it is today.

BBC Worldwide LTD has released a new iOS app, Torchwood: Web of Lies (App Store link) to coincide with the new Torchwood series,Torchwood: Miracle Day. It is a series of adventures presented in episodes within the app. The first free download gives you episode 1 of Torchwood: Web of Lies. Each week after coinciding with the new series there will be another new episode released (presumably sold as an in-app purchase). Each episode tells the story through animated graphics and gameplay. There will be 10 episodes in total, again mirroring the current series, Miracle Day.
It is a universal app so it will run natively on both the iPhone (and iPod touch) and iPad.
The following is their description for the app:
As previously reported, the Doctor Who iOS game, Doctor Who: The Mazes of Time debuted in the Apple App Store last December. There are two versions, one is for the iPhone and iPod touch, and an HD version for the iPad. Unfortunately, it is not a universal app, so you can either get the iPhone/iPod touch version and upscale it for the iPad, or alternatively get the HD version specifically for the iPad.
The prices in the US App store had been $3.99 and $4.99 respectively, but are NOW ONLY 99¢ each. So if you have been holding off purchasing this game for the iOS platform, now is the time (that includes myself). At this time, I don't know if this price reduction only pertains to the US iTunes App Store or if it is worldwide. Also I do not know if this is a permanent price reduction or a limited time sale.
Here is the link to the iPhone/iPod touch version: Doctor Who: The Mazes of Time - BBC Worldwide
Here is the link to the iPad HD version: Doctor Who: The Mazes of Time HD - BBC Worldwide
The Doctor Who: Podshock Podcast Companion App has been updated to version 1.1.1 and is now available in the iTunes App Store for the iPhone, iPod touch, and iPad.
The update should address a bug that may had prevented you from seeing episodes (podcast episodes and exclusives) appearing on your screen on the iPad. A couple other bugs were addressed as well.
To learn more about the app, see: Podshock? There's an App for That!
The latest episode of The Sonic Newsdriver has been released. Be warned, there is some singing in it. Sorry. It is sonic after all. As always, it contains selected Doctor Who related news for you to digest sonically. Short and sweet, just like a Jelly Baby -- only sonic.
Enjoy.
Sonic Newsdriver (10 December 2010) -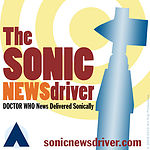 The Sonic Newsdriver 20101210
Selected Doctor Who related news delivered sonically.
For Earth-date: Friday, the 10th of Dec. 2010
Happy Birthday Doctor Who-sein, Doctor Who Get Smart and Lancaster, BBC iPlayer? There's an App for That!, If Adventure Has Name..., We Have a Date for Christmas... Again, The Mazes Are Landing Soon, It's All About Triumph of Intellect and Romance over Brute Force and Cynicism, Doctor Who in 3D?, and more!
As mentioned in Doctor Who: Podshock (as well as here: DW Podshock App for Podshock Supporting Subscribers), if you are a current Podshock Supporting Subscriber, you can get a promo code for a free DW Podshock Podcast Companion App (iTunes link) for the iOS platform (iPhone, iPad, and iPod touch). Up until now, the codes from Apple were valid only in the US.
As of today, the codes can now be redeemed through any App Store around the world. This is great news for our supporters outside of the US.
Quantities are limited. Therefore we are limited to what codes are available to us at any given time. If you are interested in getting the app for free and you are a supporting subscriber, please let us know.
Coming soon to the the iPhone, iPad, and iPod touch - Doctor Who: The Mazes of Time. Take a look at a demo of it being played on an iPad.
If you encountered problems listening to Doctor Who: Podshock 227 on your iPhone or other iOS device, please re-download the file again. A fixed AAC file is now available.
Listen to this brief note (also in the Enhanced Podcast feed now):
Doctor Who: Podshock - Aftershock 20101006
Running Time: 0:09:39
In this brief Aftershock episode of Doctor Who: Podshock we announce our new DWP Podcast Companion App, the upcoming Gallifreyan Embassy Anniversary Event, and our live show at NYCC with Tony Lee @mrtonylee .
Hosted by Louis Trapani ( @LouisTrapani ), Ken Deep ( @kendeep ), and James Naughton ( @JamesNaughton ).