Now more than ever, we need your support! Become a Supporting Subscriber today.
Art Trap Producitons
---
"Good news everyone…" (I say in a Professor Fransworth voice from Futurama), The Sonic Newsdriver podcast is back and it's about time (and space of course). The latest episode is now available a week prior to the launch of the 4th series of The Sarah Jane Adventures, and as such, there's plenty of coverage about it in this episode, along with of course news about Doctor Who itself and more. It is a great way to stay on top of selected Doctor Who related news while on the go!
Sonic Newsdriver (03 October 2010) -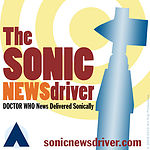 The Sonic Newsdriver 20101003
Selected Doctor Who related news delivered sonically.
For Earth-date: Sunday, the 3rd of Oct. 2010

Sarah Jane Adventures Return, Matt Smith is the Piano Man, Doctor Who Live news, Music News, Doctor Who and the Florence and the Machine, NYCC is Coming to Town, Your iPhone Just Got More Sonic, Party Like It's 1996, and more.

[Art Trap Productions]