Craig Freguson
---
It's interesting seeing this interview now of Peter Capaldi on Craig Ferguson's late night chat show years before (from 2009) he was cast as The Doctor. Pay very close attention what Peter is wearing, a definite precursor to his Doctor's costume. Doctor Who doesn't come up in conversation (Peter was there promoting his then new movie, In the Loop, but Craig does bring up their past history together including 'dropping acid' and being part of a punk rock band (The Dreamboys). It's also the first time Peter is speaking to an American audience.
Once again, Craig Ferguson welcomes Doctor Who guests on his US late night chat show, The Late Late Show with Craig Ferguson. This coming week we have both Matt Smith and Karen Gillan lined up to appear on his show, but not on the same night. It's Monday night's show for Matt* and Tuesday for Karen… *Maybe. I say maybe because according to the show's CBS website of this week's guests, it has Matt scheduled for Friday at the time of this writing. According to my DVR though, he's on for Monday night's show, so I would advise recording Monday night's show just to play it safe. If Matt is not on it, be sure to set your DVR for Friday. Remember when it comes to setting your DVR, since the show is at 12:35 am, it's after midnight, so techincally, it's the next day. Depending on your DVR, you may need to go Tuesday, July 26th at 12:35 am to find Monday night's show and to Wednesday, July 27th at 12:35am to find Tuesday night's show.
Both are "in town" so to speak -- well at least in CA for San Diego Comic Con taking place now.
DVR Alert:
Karen Gillan (Amy Pond) is one of the guests tonight on The Late Late Show with Craig Ferguson. This is the episode she recorded last week (as mentioned in Doctor Who: Podshock 243). The show is on at 12:37am (technically Saturday) EDT, check your local listings in your area for show times in your area.
Late Late Show - This Week's Guests - CBS.com: "Friday, April 22: Diane Lane, Karen Gillan"

(Via www.cbs.com)

Photo: © 2010 @LouisTrapani
The Late Late Show with Craig Furgeson's guest this time around is Karen Gillan, the show is on April the 13th, for those of you who want to go and live in the or will be in LA around the time you can visit Craig's CBS website for tickets. (link below) just scroll down to the appropriate show and click on the get tickets button.
On Monday's episode of The Late Late Show with Craig Ferguson it featured a segment on Gallifrey One 2011 featuring video shot at the convention which included our banners for Doctor Who: Podshock, as well as Tara Wheeler's TARDIS and Tara @TARDIS_Tara herself.
If you missed the segment with Chris Hardwick and "Bridger" recorded at Gallifrey One for the late night show, Graeme Sheridan @The2ndDoctor has embedded a YouTube video of it in his post, Gallifrey One on the Craig Ferguson Show. (Watch it while you can in case it is pulled off of YouTube).
Chris Hardwick presented his report on Gallifrey one last night on the Craig Ferguson Show. Tara Wheeler @TARDIS_Tara and her TARDIS make up the end of the report. Plus a special appearance from the Head of Pertwee.
There are a couple new Doctor Who: Podshock episodes on their way (coming soon), in the meantime the latest episode of The Sonic Newsdriver will feed your hunger for Doctor Who related news.
Sonic Newsdriver (06 January 2011) - Doctor Who News -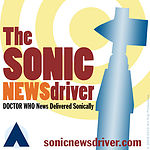 The Sonic Newsdriver 20110106
Selected Doctor Who related news delivered sonically.
For Earth-date: Thursday, the 6th of Jan. 2011

In this episode: Besotted, DVR Alert, YouTube Goes Classic, Ambassadors of Restoration, The End of Time Begot A Christmas Carol, Ashes to Ashes - Sherlock to Sherlock - Doctor to Doctor, Torching the US and the UK, Where's the TARDIS, and more!
The latest episode of The Sonic Newsdriver has been released. Be warned, there is some singing in it. Sorry. It is sonic after all. As always, it contains selected Doctor Who related news for you to digest sonically. Short and sweet, just like a Jelly Baby -- only sonic.
Enjoy.
Sonic Newsdriver (10 December 2010) -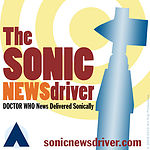 The Sonic Newsdriver 20101210
Selected Doctor Who related news delivered sonically.
For Earth-date: Friday, the 10th of Dec. 2010
Happy Birthday Doctor Who-sein, Doctor Who Get Smart and Lancaster, BBC iPlayer? There's an App for That!, If Adventure Has Name..., We Have a Date for Christmas... Again, The Mazes Are Landing Soon, It's All About Triumph of Intellect and Romance over Brute Force and Cynicism, Doctor Who in 3D?, and more!