Ambassadors of Death
---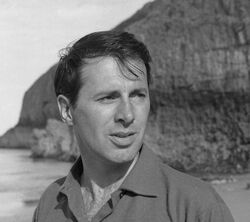 It saddens me to say that we've lost another Doctor Who vetran. Peter Halliday passed way on the 19th of February. It's taken a while for the information to filter out, Peter for most shall be remembered as the unfortunate, violence happy Packer in The Invasion along side Patrick Troughton and Kevin Stoney. But it was not to be his only role, he also did voices for The Silurians and Ambassadors of Death in Jon Pertwee's 1st full Season. Then going on to star as Plectrac in Carnival of Monsters.
Later he appeared along side Tom Baker in the City of Death, as a soldier, and finally along side Sylvester McCoy in Remembrance of the Daleks as the Vicar in the closing moments of Episode 4.
As reported in Wired magazine the restoration of Ambassadors of Death has gotten a boost due to a new editing computer.
"Their method is a refined version of that trialled on the 2009 Planet of the Daleks re-release; it is now being deployed on a seven-part 1970 Jon Pertwee adventure, The Ambassadors of Death. "It seemed almost recordings, they didn't filter off the colour carrier [encoded as a 'chroma dot' pattern in each frame], which for the last few decades has been nothing more than an annoyance." Team member Richard Russell used the signal to reverse-engineer raw colour pictures that could be retouched frame by frame. "It's very, very labour intensive -- several hundred man hours' work every episode," says Steve Roberts. Luckily, a new "quadrant editor" is helping them to produce better source material upfront, so they hope to deliver the Ambassadors episodes to the BBC within weeks."