The Celestial Toymaker
---
Doctor Who Monthly has reported via Twitter this morning the sad news of the death of actor Michael Gough. He will be remembered by Doctor Who fans as the Celestial Toymaker in the story of the same name (The Celestial Toymaker) in 1966 with the first Doctor (William Hartnell) and Councillor Hedin in the 1983 story, Arc of Infinity with the fifth Doctor (Peter Davison).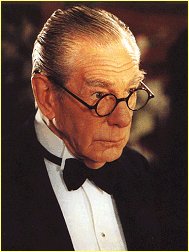 You may also recall him for his parts on the big screen such as the trustworthy butler Alfred Pennyworth in the 1989 Batman film as well as its sequels, Batman Returns (1992), Batman Forever (1995), and Batman & Robin (1997).
Also included in his long list of credits is Sleepy Hollow (1999) playing Notary Hardenbrook.